2x2 is 3 is an Ironman from Lebanon. He mostly plays RuneScape to escape from the poor situation of his country. 2x2 is 3 also goes by the name of Wassim, his non-ironman account. However he does not actively play on this account anymore. He is most commonly known as a RuneScape PKer and a PvMer. Besides that, he actively engages in the community.
Warbands
Since childhood, Wassim always wanted to max his RuneScape account. To achieve this goal he joined Warbands and became an active looter. Besides that, he also developed pking skills. He joined many friends chats over time and eventually quit Warbands once he maxed his account.
Dawah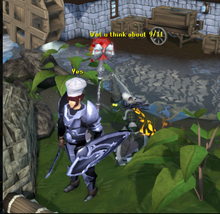 Wassim performs Dawah activities in the RuneScape game. He is known to take inspiration from Dr. Zakir Naik and his methods. He tries to convert people to Islam in Discord meetings.
Community content is available under
CC-BY-SA
unless otherwise noted.