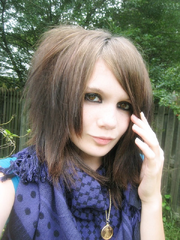 A1i5ha is a RuneScape video maker and Twitch streamer better known as Alisha12287, which is now also her RSN, as of April 2017. The "12287" part of her name was a random number suggested by RuneScape's character creation system, when she first made the account, and has no other meaning.
A1i5ha more or less abandoned Twitch and RuneScape after the exposure of the "Twitchcon Affair" (see below).
Achievements
A1i5ha predominantly plays the standard OSRS, and is classified as a skiller. She is best known for live-streaming her Woodcutting grind in the Seers Village courtyard and for obtaining 99 ranged in the Experiment Cave - a feat she also streamed.
On RS3, A1i5ha boasts the maximum level in the following skills:  Magic, Cooking, Woodcutting, Fletching, Firemaking, Crafting, Smithing, Mining and Runecrafting.
Controversies
TwitchCon Affair
The TwitchCon Affair refers to the claim that Alisha12287 engaged in a sexual liaison with her 33-year-old top donor at TwitchCon 2015, allegedly for donations. News of the affair first started to break with the exposure of a video from the Monstercat party of TwitchCon 2015, featuring Alisha dancing nose-to-nose with one of her biggest donators - an act many have interpreted as "grinding". She was unaware that she was being recorded at the time.
People have speculated that Alisha and the donator in question, ZenkaiRacer, French-kissed many times during the course of that evening, and likely went further; B0aty has said that he was unable to return to his and Alisha's hotel room that night as she was up there with a viewer of hers (although he was too drunk to remember the viewer's name ). This has led some to draw parallels between Alisha's actions, given the reputation of ZenkaiRacer as a large and reliable financial contributor to the stream.
In the weeks leading up to TwitchCon, ZenkaiRacer had largely disappeared from Alisha's channel, and had not donated for a couple of months. However, after the events of the convention, he returned to form, dropping numerous large sums of money to the stream (including 6 x $122.87 in his first stream back), before departing for Afghanistan not long after as part of his service in the Royal Air Force reserves. It it hence said that Alisha did the dirty with Zenkai in order to win him and his mega-bucks back. If so, it worked. Alisha began dating her current boyfriend a few weeks later and now indiscriminately bans anybody who mentions the Zenkai affair.
Alisha denies the allegations of a sexual encounter with her top donator, meanwhile there are unconfirmed reports, from various users, that ZenkaiRacer himself has corroborated the events as given. Indeed, she would have almost certainly denied the intimate dancing too, if not for video evidence coming to light.
Porn incident
On the 20th of April 2015, Alisha inadvertently streamed hardcore pornography to her viewers.
A viewer posing as "killerhit98" (this was the name they gave on the donation message) donated a dollar, requesting Alisha to watch a supposed "FailArmy" video on YouTube - a compilation of "fails", featuring clumsy people accidentally hurting themselves to comedic effect.
Alisha obliged to watch the slapstick video and proceeded to play it live on stream so that viewers could see what she was seeing as she reacted to it. If she was switched on, she might have noticed that the view count for the video was suspiciously low (less than 100 views) and so the video was unlikely to be an authentic FailArmy video with good intentions; if the video was legitimate, there is no way the donor would have chosen to send this low-quality obscure rip of the original, instead of the original itself.
Nevertheless, the video started smoothly and as she had expected. Alisha produced her best giggling overreactions to all the painful, unfortunate mishaps befalling the strangers she was watching, and everything seemed fine and dandy.
Then, suddenly, just as the compilation cut to the next clip, the video switched to footage of a man sensually penetrating award-winning adult actress Kendra Lust, in a sort of side-entry kneeling missionary position. With her only genuine reaction since she started watching the video, Alisha gasped, swore, and, with a sluggish yet panicked pace, managed to close the video, amid hysterical laughter from the frenzied Twitch chat.
After a few seconds, Alisha announced that she had to make a phone call, turned off her webcam and muted her mic, before pressing "1" on her phone to speed-dial Twitch staff and favourably resolve the situation.
Community content is available under
CC-BY-SA
unless otherwise noted.