Agent Chriss

| | |
| --- | --- |
| Total level | 2389 |
| Combat level | 138 |
| Other names | Chriss, Chris |
| Nationality | American |
| Known for | World 18 - White Portal |
| Clan | The Jungle |
[view] • [talk]
Agent Chriss, or known outside of Runescape as just Chris, is a player that has played Runescape since 2007. Well spoken but rather quiet and mysterious, he seems to earn the status as an Agent. Agent Chriss almost never speaks in public and it's rather rare to see him say anything at all. Only his friends have spoken to him and they are limited due to his apparent small friend's list. He can usually be found in World 18 at white portal or World 64 and 73 partaking in Araxxor/Araxxi Trips. It is rather common to see him standing motionless in the same spot for minutes to hours at a time. Agent Chriss watches the area and observes interactions between other players in public. For some reason it seems to satisfy him and relax him from time to time. Stats wise, Agent Chriss is maxed in all combat stats however few others. He has a huge distaste for gathering skills such as Fishing or Woodcutting and so he tends to keep away from them as much as possible. He currently tries to play as much as possible but as he says, "He hates sitting at his desk being an Agent in a virtual world."
Personality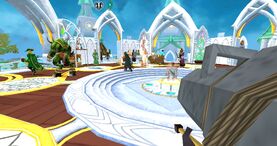 Personality wise, Agent Chriss can be honorable and amiable at times but cruel and irritating at others. He seems to be loyal to the people he is close with and he tries settle fights and verbal arguments in a clean, relaxed manner. He doesn't have a lot of money and although he has a steady income of cash from fighting monsters, he does not mind giving a portion of that away depending on the situation and the person asking. He can be protective sometimes towards his friends but in doing so he can sometimes make a situation even worse. They saying goes, "There are two sides to everything" and this is no exception to Agent Chriss. He can be nice at sometimes but he is also arrogant and disrespectful at others. His biggest pet peeve is trash talking and he seems to saying something back when given the chance to take his opponent down. He tries to be close with his friends but he is quite unforgiving sometimes. Should he feel as if he is betrayed, he will take no second though in casting his "friend" away and giving them a cold shoulder leaving them in wonder. He tends to hold a grudge and once someone has hurt him, he has a difficult time accepting an apology. Although he can be a rather laid back person, he seems to have trouble creating a fluent conversation with other people. His attempts usually end up in an awkward silence and random outbursts of ramble. 
Armor/Weapons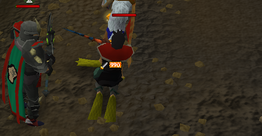 Since his max in combat, Agent Chriss has shown to be an effective fighter in mostly player versus monster encounters. He dislikes using tier 90 gear due to the fact that they degrade to dust so he tries to stick with tier 70 as much as possible. In his Araxxor trips he uses Ascensions and Sirenic Armor. For trips at the Queen Black Dragon, he uses Deathlotus and Ascensions firing dragonbane bolts. He barely uses melee in player versus monster encounters but he uses it extensively in player versus player fighitng. He spends a lot of his time at the white portal in world 18, so he's acquired some skills in fighting players over his time here. He isn't an effective switcher but he enjoys his hybrid setup of Warpriest, javelins, and Virtus' Book of Magic with an Armadyl Godsword as a quick switch. At low health he switches to Dharoks.
Personal
Agent Chriss doesn't seem to dance often. He only dances when, "He is flriting with someone." It is currently unknown whether or not he has feelings for someone because he barely speaks outside of private messaging. This can cause some communication problems between him and whoever is trying to speak to him in public. However, due to how he handled situations in the past as well how he speaks to people when he does talk, he is not a hateful person. 
Trivia
His favorite color is purple
He loves black cavaliers
He holds a briefcase in his left hand all the time and he claims it's his "Agent" papers

If someone trades him while he has a briefcase in his right hand, he will give that player eight million coins

He seems to enjoy roleplaying with his friends from time to time
Chris attends a University somewhere in Los Angeles
Chris is an avid athlete and rumor has it he is partaking in a Division One sport.
He uses twitch from time to time and he is energetic, flamboyant, and tends to sing from time to time
His favorite spot to stand on is in white portal, two steps east of the rocky outcrop
He has a Twitter account under the name @AgentChriss_Rs
His favorite novel is, "The Boys in the Boat" by Daniel James Brown
Community content is available under
CC-BY-SA
unless otherwise noted.