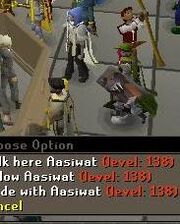 Allar (previously known as Aasiwat and Skiller) is a player with 200 million experience in six skills. He used to be rank 1 on the hiscores after passing gertjaars. He was the first player to reach 2.5 billion experience. He has 2,680,000,000 experience Overall as of 15th August 2011. This means that, in terms of total experience possible to earn, Allar is more than 50% complete. Allar is currently a non member. After the release of the dungeoneering skill, he is no longer rank 2 on the hiscores.
Stats
As of 24 May 2011, Allar has level 99 in all skills.
External links
Community content is available under
CC-BY-SA
unless otherwise noted.