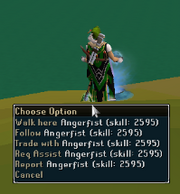 Angerfist

Angerfist's avatar on YouTube.
Total level
2736
Combat level
138
Other names
Gertjood, Shinoda
Nationality
Belgian
Started playing
November 2006
Known for
Being a top page player, reaching 5.2 billion xp as the 24th person
Clan
Efficiency Experts
[view] • [talk]
Angerfist is a Belgian, Dutch-speaking RuneScape player, known for being on the top page of the Hiscores and having 200M experience in all skills.
One of his previous display names was 'Gertjood', and he also has accounts on Twitter, Twitch, Tip it and Lunagang with this name.
As of 3 December 2012, he was maxed overall for precisely 1 year. In that time, he went from rank 356 to rank 44, gaining 1,113,349,685 experience points.
His long term goal was to get 200M experience in all skills.
One of his previous goals was to reach top page on the highscores, which he achieved on 7 September 2013, when he reached 99 Divination. He became rank 9 overall, and dropped some ranks after that.
He was the 25th person in RuneScape history to achieve 200M in all skills, and the 24th person to achieve 5.2 billion experience. It is believed that he is amongst the first players if not the first player to achieve this without buying treasure hunter keys. He clearly stated that he hates pay2win.
After reaching 5.2 billion experience, he said he wanted to get final boss and the trimmed Completionist Cape, and maybe eventually even the insane final boss title.
He stated that he will not race invention as he graduated from university 2 months prior to achieving 5.2 billion XP and currently has a full time job. He said he will still train invention in his free time and see how far he can get.
External links
Community content is available under
CC-BY-SA
unless otherwise noted.