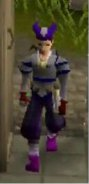 Bickerbad was a semi-famous RuneScape videomaker who started to make videos in 2008. His current channel can be found as "kimimaro109".[1] He is known by wearing purple clothes, mainly the Enchanted Hat, Saradomin Robe Top, Purple Elegant Legs and Ava's Accumulator. He was one of the few Mexican RuneScape videomakers. He was also a close friend to Aspenfox and to the people of her clan chat.
Youtube Timeline
His oldest video still online was uploaded on October 4th 2008. He had a few others before that one, he deleted them. The video goes by the name of "Runescape - Creepy Monsters(Halloween Special)".[2]
In January 25th 2009, he made a video called The Noob War 0,[3] this one was made after Thenoobwar recorded a scene for one of his videos. Thenoobwar noticed this and made this the official pre-sequel of all of the other "The Noob War" videos and submitted it in his own channel with permission of Bickerbad.
On February 6th 2009 Bickerbad made his first appearance with his most recent costume set. He used to wear Lederhosen Top instead of the current Saradomin Top Robe.
In March 21st 2009, Bickerbad released a trailer for a "movie-series" called Heroes,[4] and in June 2nd of the same year, he released the first chapter called "Lie",[5] starring some famous YouTubers such as ArrowGun99, Caveman869 (CavemanFilms), Colucci100, Kazac1 and Mithzan. KkComics was introduced later in the movie-series. This lead Bickerbad to be somewhat well-known in the RuneScape YouTube community.
In August 27th 2009, he entered a video for the first RuneScape Machinima Competition, called "The Lottery".[6]
In October 28th 2009, he released a video interviewing 3 of the winners of the Runescape Machinima Contest: ArrowGun99, KkComics and Mommakitty2.[7]
In January 10th 2010, Bickerbad entered for the second time in the RuneScape Machinima Contest, and this video is currently his most popular one, with more than 36,900 views.[8]
In March 29th 2010, GizzyGazza and Skythekid starred on a short video made by Bickerbad called "Camping Night".[9]
In July 13th 2010, Runway2020 and C0pperCab starred in the video "Bickerbad vs. Runway2020".[10]
In November 16th 2010, ArkantosWar along with Bickerbad released a video for a friendly Clan Wars battle,[11] the motive of this was due to the strong friendship between both of them. Each side had a vice, on Bickerbad's side was Colucci100 and on ArkantosWar's side was Muscle Adict. Arkantos War won the battle with a score of 4 against 1.
In March 30th 2011, Bickerbad released his last Runescape related video: Heroes Chapter 4, which this series still remains incomplete.[12]
He currently plays Minecraft and can be found as BickerCraft.
References
Community content is available under
CC-BY-SA
unless otherwise noted.