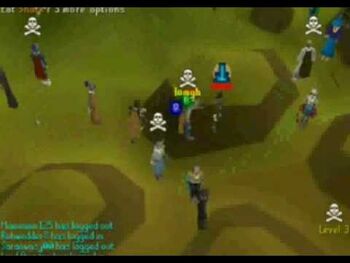 Bk2Lumby4You, Aka. The '06 Dragon Killer became Famous on RuneScape and Youtube in early 2006 for the release of his first Pk Video.
He had been awarded by Jagex in 2010 for having the first player killing video get one million views. which was shortly before having it taken down when the original youtube was banned.
Lumby has been making RuneScape content on a different channel for over 2 years. "DurtyGooodz " which was the name of his first pure.
He has stopped making videos since early 2012.
Bonesaw aka. Nate recently spoke about Lumby on one of his livestreams saying that he was 'a legend that made the wildy what it was". Lumby reached out to Nate via teamspeak where he thanked him personally and told him he was going to make a return to Runescape within the coming weeks.
Community content is available under
CC-BY-SA
unless otherwise noted.