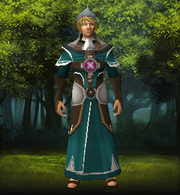 Chris Heart (also known as Chris Chomp) is a veteran player in a new players body. He started playing RuneScape in the early 2000s and gradually lost interest in the game, but came back in 2009 when the revenants roamed the wilderness. He is now a fairly active player, with an interest in community and social gameplay.
Friends Chats and clans
Chris Heart has had many home friends chats over the years, with prominent ones being W141revhunts, Tree Hunt, and Star Find. More recently he has resided in Mod Phoenix, Mod Sabre, Mod Chrisso, Mod Slayer and Mod Tyran friends chats.
As far as clans go, Chris Heart has been known to go solo when it suits him, but loves the social aspects of clans, and the idea of making friends and building online bridges between communities and walks of life. He has been in a few clans: Christians of RS (a religious clan), Loyal Hearts (a skilling clan), Spirits of Arianwynn (a community clan), TwitterScape (a social media based clan, for the RuneScape Twitter community), Bass and Drums (a community clan, with a family mindset).
Recent activity
Chris Heart is primarily a free-to-play player who primarily resides on world 29, and enjoys relaxing while firemaking, cooking, and runecrafting. He always has logs in hand to make friends over a nice bonfire. 
Something worth noting is the origin of his all too familiar phrase and greeting "Hello Everyone". This was the greeting of the late Mod Cage, a former member of the Tech Team. Mod Cage was nicknamed "The Cagebot-3000" because of his utilizing this greeting every 2 minutes or so until his crash, or shutdown (the tech team denies any involvement in this).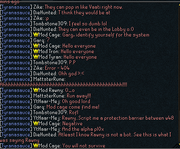 Community content is available under
CC-BY-SA
unless otherwise noted.