CrystalFarm

CrystalFarm training Slayer
Total level
2617
Combat level
138
Other names
ask a13d 4gp
Long Winter
Makaveli 92
Fe Conor
Nationality
New Zealand
Started playing
December 2006
Influences
Jebrim
Castle Wars
Finbarr
Achievements
5.2b XP[1]
(Former) AlmostLost FC Rank
Known for
• Formerly Rank 8 Overall
• Rank 2 HC Ironman on OSRS[2]
• Former owner of Afrobros clan
Clan
Afrobros
[view] • [talk]
CrystalFarm is a RuneScape player. He has a combat level of 138 and has 200M in 26 skills, everything but Invention. [1] He is well known for being rank 8 overall on the hiscores starting on January 13th, 2015. His rank later improved to rank 7 overall for a time until the release of Invention due to Forsberg888 losing membership.
Beginning of RuneScape career
CrystalFarm created a total of three accounts (including CrystalFarm) in 2004, but did not start playing much (or on his current, well known account) until December 2006. Between 2004 and 2006, not much is known about the accounts CrystalFarm played with aside from the fact that he obtained level 74 combat, roughly 680 total level and was never a member on the account. He had full Rune armour, a Rune Two-Handed sword, and a Rune Scimitar. Eventually, this account was hacked.
After losing access to his first account, he then played on his second account named "Zhenjithekin" between 2005 until Christmas day 2006. He remembers not having a very merry Christmas weekend that year, due to this account being banned. However, this event would also be the real beginning of the account CrystalFarm.
The Middle Years
The first thing he remembers doing on the account was mining pure essence. He immediately felt a strong affinity for mining and ore working. For three months in 2007, he trained prayer by killing zombies near the Hill Giants in Edgeville Dungeon. He wanted to do so using big bones from the Hill Giants, however, they were often too crowded. Eventually, he reached level 60 prayer.
Soon after this, CrystalFarm became a RuneScape member. This was the first time he was a member since his second account got banned. He remembers one of the first things he wanted to do was obtain a quest cape, which he did by mid 2008. By the end of 2008, his goal in RuneScape was to become the next Zezima. To do this, he wanted to get ten level 99's at the same time. For many long hours, he trained his combat skills at Soul Wars. In late December, due to a Farming blunder in which he accidentally clicked a farming patch in Catherby, he obtained his first level 99 Farming.
A few hours after getting 99 Farming, he held an event with his friends and achieved his goal and got the other 9 99's at once; Attack, Defence, Stength, Hitpoints, Thieving, Fletching, Woodcutting, Firemaking, and Cooking.
Playing Professionally
CrystalFarm achieved level 99 Slayer and Summoning on May 29, 2010.[3] That's when he started playing more, for a goal of achieving higher ranks and XP.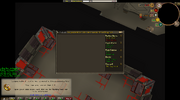 Shortly after this achievement, Conor enrolled in College to study Engineering. However, he would later switch to majoring in Software Engineering. This allowed him to create various RuneScape related "helping" programs, such as a Heist alerter that played siren sounds when it was time to arrest your alternate accounts.
CrystalFarm's last skill to level 99 was Prayer, which he achieved on April 14, 2011. After this, he found that his new favorite thing to do was Dungeoneer. He spent many long hours at Daemonheim in world 117, and got level 120 Dungeoneering on July 29th, 2011.
He got his first 200m on September 16, 2011, which was Cooking. After that, CrystalFarm focused on Slayer, which would become his favorite skill. He would soon get 200m Summoning XP as a result of training Slayer.
After getting combat 200m skills, he got 200m Slayer XP on December 3rd, 2012. He was rank 14 Slayer.
On January 15th, 2015, he achieved his goal of getting 200m XP in every skill, for 5.2 billion total XP. This would place him at rank 8 on the overall hiscores.
Gambling Career
CrystalFarm has always done a lot of different money making methods. Aside from frequenting R Quark friends chat and merchanting rare items, he spent a portion of his time as a dicer. In mid 2011, he joined Liked friends chat. The buy-in price for a recruit rank (single chevron) was 500m. He worked his way up to sergeant (three chevrons) through hosting bets. He estimates having made around 1 billion gold.
Afrobros Clan
CrystalFarm joined Afrobros clan in around 2010. The clan was home to many high ranking players, including A13d, Sorbosander, Forsberg888, and Per. The clan created many skilling events, and was a common place for people to find Stealing Creation and Heist teams. He would eventually be transferred ownership of the clan, in part because of his XP. However, he hasn't held this position for a few years, due to him switching to Old School RuneScape.
Old School RuneScape
CrystalFarm started playing Old School RuneScape on it's release on his main account. However, it didn't last very long, as within a few hours of logging in, he had died at the Ardoungue thieving stalls. Apparently, someone else walked by and snatched his dropped items before he could retrieve them. He was very upset, and wouldn't return to Old School until after he got 200m in all skills on RS3.
After maxing on RS3, he eventually returned to Old School. His main Old School account, Pizza Hut, was what he played on to begin with. He got 200m XP in Cooking and Crafting (which is rank 10), as well as 30m Herblore. He trained Slayer for combat XP, but stopped at around 30 million Slayer XP. He currently has around 795 million total XP on this account.
After burning out on the account Pizza Hut, he started playing Hardcore Ironman 3 days after it got released. As of February 13, 2018, he is currently Rank 2 overall on the Hardcore Ironman hiscores.[2] His Hardcore account is currently named B Krzanich.
Community
Outside of the game itself, CrystalFarm has been active in various other RuneScape communities, such as the High Level Forums, Youtube, Reddit, Twitter, and Twitch.
Controversy
Aside from the account that got banned in 2005 (Zhenjithekin, later unbanned, current name Ian Murdoch), he has recently experienced more account issues. While training at dwogres in January 2016, 4 of his accounts got logged out at the same time. They had all been banned for Macroing Major. A similar thing happened to one of his girlfriend's dwogre accounts, however, she contacted a Jmod to get hers unbanned. The accounts "Cal is 1000k", "Cal is 5000k", "Cal is 6000k", and "Cal is 7000k" were banned, and he has been unable to appeal the bans. This event led him to stop playing RS3 and take a break until he started playing Old School.
Although CrystalFarm is the name people usually use to refer to him, he has changed his display name in the past, occasionally as a joke or because he has felt disillusioned to something in or about the game. In early October 2015, after the Umpqua Community College shooting which resulted in the deaths of 10 people, he changed his name to TobyReynolds (a name being mistakenly reported in some media reports as that of the shooter) and later to Chris Mercer (the name of the shooter).[4][5] After being alerted through a thread on Reddit, a Jmod forced a name change on the account.
External links
References