Jurassic World: Dominion Dominates Fandom Wikis - The Loop
Play Sound
Cursed You
Combat level
113
Other names
Curssed You, Lincoln
Nationality
New Zealand
Started playing
2002
Ended playing
2006
Achievements
•First to achieve level 99 Construction
Known for
•Falador Massacre

•Staking
[view] • [talk]
Cursed You was arguably the most prestigious staker in the history of RuneScape. He was well known for his infamous stack of rares and becoming the first to achieve level 99 Construction on June 6, 2006 which had ultimately led to the Falador Massacre. His name, along with several others (H A 12 D, Uncut Angel "Luke" i.e..) remains engraved in the history of the RuneScape's Duel Arena.
Cursed You was banned on August 25, 2006 with an estimated net worth of about 40 billion gp in rares and other items [1]
The Ban and Falador Massacre
Using the money gained from staking, he became the first player to achieve level 99 Construction. He held a house party in celebration, and decided to expel players from his player owned house while PvP was enabled.
This resulted in the world 111 glitch which caused the infamous Falador Massacre by Durial321. During the Falador Massacre, Cursed You was manually disconnected by a Jmod and was banned for four hours.
A few months later, on August 25, 2006, Cursed You's account received a permanent ban for Real World Trading. This was due to Cursed You's real life friend "Josh" (who was called Cursed Y0u in game) gaining access to Cursed You's account after Cursed You agreed to let him use his account while he was at his 6th form formal.
"Josh" (Cursed Y0u), then proceeded to walk around RuneScape asking players if they would like to 'purchase millions of ingame gp with Real World Currency,' eventually leading to Cursed You's ban for Real World Trading. While the ban was falsely placed, the appeal was denied due to the evidence Jagex had of "Josh" attempting to Real-World-Trade on Cursed You's account.
Cursed You's Return in 2016 (Curssed You)
Curssed You

Cursed You in real life
Total level
1,034
Combat level
93
Other names
Cursed You
Nationality
New Zealand
Started playing
2016
Ended playing
N/A
Known for
Livestreaming
Clan
DI/FP
[view] • [talk]
Cursed You returned to RuneScape on January 24, 2016 under the RuneScape name "Curssed You." He requested Jagex to transfer his original RuneScape name, but was denied. Currently, he is streaming gameplay on twitch.tv in his expedition to gain maximum stats, as well as to return to his staking. He currently plays OldSchool RuneScape after achieving 99 Construction on June 6, 2016, 10 years post the Falador Massacre as quoted by Cursed You himself, "for old times sake."
As of June 2016, Curssed You has a total level of 1,439 with a Construction level of 99. Additionally, he has a combat level of 123.
You can find him at http://www.twitch.tv/cursed__you where he is more than happy to answer questions on stream regarding his career of scaping, and his plans for the future after restarting the game.
10th Anniversary of the Falador Massacre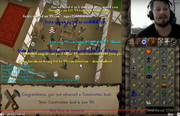 On June 6th, 2016 he achieved level 99 Construction once more, on Old School Runescape, 10 years after his original achievement in June 2006. Shortly after achieving 99 Construction, his account was disconnected from the game. A hacker logged into the account stealing all the items that were intended to be dropped at the 99 party.
Cursed You's Youtube video explaining his side of the Faladar Massacre was recorded in 2017 and can be seen here.
References
External links