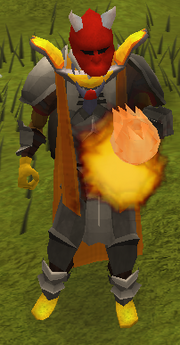 Double Nines is a notorious RuneScape gambler that started a gambling friends chat in 2012 under his name, and in his home world, world 31. His friends chat hosted drop parties, giveaways, hot/cold, and flower poker. Double Nines was a level 3 skiller throughout the existence of his friends chat, which was also one of the things he was famous for as most level 3 accounts were not to be trusted in gambling. He achieved one level 99, Firemaking. Double Nines was well known on World 31 for starting a gambling friends chat from scratch with 17m, and ending his friends chat with an estimated 2-6b. He was also known for his feud with rival friends chat W31 Flowers.
Double Nines vs. W31 Flowers
Ever since Double Nines started his Friends Chat (FC) in World 31, he and the W31 FC had been fighting over the world. They caused disruption around the Grand Exchange, and they fought with each other. At first, Double Nines tried to make friends with W31 Flowers, but W31 Flowers began dropping junk at Double Nines' drop parties and spamming hateful messages around the Double Nines FC gambling area, and would tell others that Double Nines was a scamming FC. Double Nines tried to stay peaceful, but would retaliate at times.
The End / Rebirth of Double Nines
When EoC was confirmed to come out, Double Nines decided he was going to quit and ended his FC and decided to train his combat. He also changed his name to "a Ghoul" which remains his name today. Double Nines doesn't play on his original Double Nines / a Ghoul account anymore, and now plays RuneScape 3 on an account called "FLX". Double Nines planned to start gambling again until it became bannable, and it is unknown whether or not he plans to return to IRC dicing or any other form of gambling.
Community content is available under
CC-BY-SA
unless otherwise noted.