Drakie

Drakie in a free-to-play world in the Grand Exchange
Nationality
Brazilian
Started playing
2003
Ended playing
2011
Known for
Personality and stats
[view] • [talk]

Drakie, known outside RuneScape as Drakie Rehbein, was a Brazilian player and a celebrity in RuneScape. He started playing in 2003, after a friend showed him the game.[1] He is well known for his level and personality, and usually posts pictures of RuneScape in his social network pages. Drakie was a member of the clan Legends Of Glory for a long duration; he was also a clan war leader, and he was a founding member of the clan PSY. He has level 99 in all skills and has 200 million experience in Cooking. As of 2012, he does not appear in the hiscores.
Drakie created the Facebook page RuneScape Ironico, with over 9,000 likes. In late 2013, he launched his YouTube channel called rsdrakie and released a video. He has also started playing Old School RuneScape with another account, but he later quit the game.
History
Drakie started playing RuneScape in mid-2003 after a friend showed him the game, which he ended up liking. He formerly played in world 25, a Brazilian world at the time. He was usually found in Varrock's big bank talking or joking. Despite his jokes he was also known for training his skills easily and quickly. He stood out among Brazilian players for his broad knowledge of the game, even when there was not a specific server for Brazil. His first level 99 skill was Cooking, and since then he has attained 200 million experience in the skill, being among the first 300 to reach it. His second level 99 skill was Firemaking, followed by Magic. He was also among the first 50 players to achieve 100 million experience in Magic and Fishing.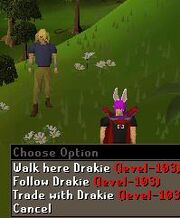 Later, Drakie decided to take a break from being a skilling pure to enter the clan world, and he reached the highest combat level possible. His first clan was Brazilians In Wars (BIW), which was where he stayed for about two years. However, around 2009, he discovered Legends Of Glory through his friend Nemeses25, and later he decided to leave BIW to join the Legends Of Glory, a clan led by Zig Frid. Drakie soon became identified with the clan. In the clan, which was like a "big family", he made many friendships and helped defeat many other clans around the world. He was a moderator in the clan, and was also part of the hierarchy that helps beginners, known as New Gladiators.[2] After a while, the clan began to have difficulties and was closed, and Drakie decided to enter a new clan called Monocromatic Brazil, where he stayed for a short period. Legends Of Glory eventually re-opened in September 2011, and he joined the clan again. After Legends Of Glory closed for good in late 2011, together with multiple PvP clans, he hasn't joined another official clan.[3]
Drakie is also well known for posting many screenshots of RuneScape in his social networks pages, often about his levels, friends and adventures. After the launch of the Brazilian server, he posted many comical screenshots, hitherto on the players, and the "comedy" of the Brazilian community, in order to compare it with the global community. As of 2011, he showed a certain revolt against the Jagex updates, making several posts about the updates, and he even got to ask for the return of Andrew Gower. In late 2011, he quit playing, explaining in his social networks that he thought "RuneScape was getting very boring and easy".[4] Since then he has made a few appearances in the game. In late 2012, his name disappeared from the hiscores. On May 13, 2013, Drakie reached level 99 in Dungeoneering while playing as a non-member.[1]
On August 22, 2019 Drakie published on his page that he returned to play RuneScape and reached level 99 in the two skills launched since he quit the game, Divination and Invention. In the post he appears wearing a Invention cape and says "maybe one day I'll go 120".[5]
Other projects and Old School RuneScape
In mid-2012, after he stopped playing RuneScape regularly, Drakie created the Facebook page "RuneScape Irônico", with daily posts.[6] As of May 2014, it has over 9,300 likes.[7] On November 31, 2013, Drakie launched his YouTube channel and released an explicit video called "RuneScape: I think...". The video is a humorous critique of the armour rework.[8]
On December 21, 2013, he posted a screen shot of the Old School RuneScape Tutorial.[9] On January 2, 2014 Drakie posted another screen shot and said "Okay, maybe [it is time to] start playing Old School Runescape just for old times sake".[10] On February 11, 2014 he achieved level 99 in Woodcutting; he stated that it was previously more exciting to achieve 99 in a skill.[11] His account on Old School RuneScape was called Molhadinha, which sounds like "wet pussy" in Portuguese, but his nickname was locked.[12] He has since changed his name and stopped playing the game after getting level 99 in Woodcutting.
Clan wars
Drakie used to be in many clan wars with his friends and other players. Oftentimes he was asked to lead clans, even those he had never had previous contact with, in wars. He also entered various unofficial clans, such as PSY and CL, among others, just for fun, and brought some of them credibility.
He founded the clan PSY United with the player PSY in early 2010.[13] As Drakie had experience in the area, the clan grew rapidly and became one of the best Brazilian clans of the minigame and used to gather more than 100 members each war. The clan PSY was closed in mid-2012, after many players stopped playing RuneScape, including Drakie himself.[4]
Stats
Drakie has level 99 in all skills, except for Dungeoneering at more than 100. He has 200 million experience in just one skill, Cooking. His skills with the most experience, not counting the skill which he has maxed out, are Magic and Fishing, with more than 100 million experience in each. As of 2012, he does not appear in the hiscores.[14] After 7 years, Drakie reappears in the game records at the end of 2019.
Character
Drakie's character is normally seen with purple hair, wearing a Santa hat, and black clothes.
Personal life
Drakie Rehbein was born and resides in Curitiba, Parana, Brazil.[15]
External links
References

Community content is available under
CC-BY-SA
unless otherwise noted.