Dsbm (formerly known as Charlie561) is respected member of the world 3 Lumbridge community. He was the leader of the well renowned 'Our Tower' social clan, which has since been disbanded. His way with words often results in people trusting and following him. He's considered to be one of the nicest and most helpful guys in Lumbridge, and he's always open to a meaningful conversation.
Accomplishments

Charlie was well known for spending time with his clan on the top of the east tower in Lumbridge. The tower clan originated in world 1, but was moved to world 3 after world 1 was updated to be a p2p world. After his clan was disbanded, he set a goal to achieve 99 Firemaking and Woodcutting from the oak tree down in the courtyard. He has currently cut and burned approximately 122,600 logs, for a total of 4.5m woodcutting experience and around 9m Firemaking XP.
Personality
Charlie often helps players less fortunate than himself by sharing his meager riches. He has been known to go so far as to give rare items to his closer friends, including Santa hats around Christmas time. One of these hats was given to his long time friend, Liley. Past events may have influenced this sense of generosity. Charlie has been known to mention old friends that helped him out when he was a new player himself. One tale describes a terminally ill friend who shared his riches with Charlie before logging out for the last time.
Many veteran players in world 3 recognize Charlie's achievements and social status. He's known to be friends with other players featured on the wiki, such as Jose Bunny, another respected veteran of Lumbridge, and Drw Brothers.
Current activities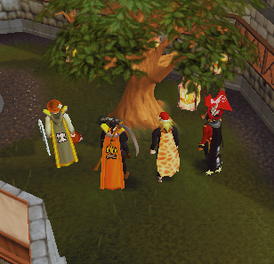 Like many veteran players, Charlie struggles to find the time to log in consistently. However, he can still be seen from time to time, chopping the famous tree in the Lumbridge courtyard, making his way closer to achieving 99 Woodcutting on oaks alone. He chats with newer players and old acquaintances alike as he works.
Although Charlie has changed his name several times over the years, he's easily recognizable by his Santa hat and his unique hairstyle.
Community content is available under
CC-BY-SA
unless otherwise noted.