Eclipso X has been playing RuneScape for around 12 years and actively plays.
He remains a very active player within the community forums as well.
As of 17 August 2020, Eclipso is
Rank - 93,499
Total level - 2024
Total XP - 203,936,737
in Old School RuneScape. This beats his previous progress within RuneScape 3.
Clan
Eclipso is within the Hail Cabbage clan where he was a Gold star however, due to not playing as often he decided to vanquish the role and let others proceed. He remains in the clan after joining back and has earned his Silver star back to aid in moderation of the clan.
As of June 2019, his Gold Star was earned back to due to new leaders overseeing the clans future with other members.
Accomplishments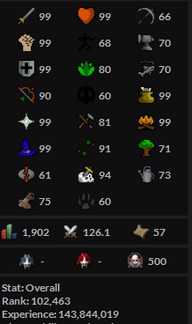 99 Cooking
99 Firemaking
99 Attack
99 Strength
99 Hitpoints
99 Defence
99 Magic
99 Prayer
Quest Cape
Hellpuppy with a 202 kill count
Quest Point cape achieved in June 2019 totalling 269 quest points.
Rankings
Eclipso was extremely skilled at specific minigames such as Barbarian Assault in RuneScape 3, achieving hiscore ranks of:
Attacker Rank - 3792
Defender Rank - 11292
Healer Rank - 782
Collector Rank - 17827
Conquest rank - 4821
These numbers have now changed due to moving to OSRS but remain in a strong region of ranking.
Community content is available under
CC-BY-SA
unless otherwise noted.