Emz
Total level
2787
Combat level
138
Nationality
Finnish
Started playing
2007
Clan
Swedish Mafia
[view] • [talk]
Emz, formerly known as Hemlig Sak, is a Finnish RuneScape player who trains in world 119. She started playing in early 2009 with her former BF. Her first 99 was Woodcutting, which she got in December 2010. She has since gained level 99 in all skills in the game.
How it started
Emz started to play RuneScape in early March 2008 when her former BF showed her the game. In the beginning she had to ask him about everything. In January 2011 when the relationship ended she decided to go on by her own to learn everything by herself.
Clans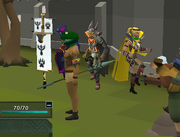 When the clan update came out she decided to make her own clan with five friends, they named it Blood Barrage. Later on in early June she made the decision to leave the clan and go to the famous Swedish clan TJ instead, she stayed in TJ until July 2012. In the end of July 2012 she left TJ with Splejknee and some friends and they made another clan by the name of Force Nordic, also called FN.
After about 3 weeks they had about 100 players in the clan. They got to tier 4 in the citadel pretty quickly. But in the end of October 2012 the clan vanished and she went back to TJ. In the beginning of February 2013, she joined the clan Swedish Mafia.
YouTube and Twitch career
Emz has also tried to make a YouTube channel for the Swedish community which has not gone so good. She made some without her own voice. After a few videos, she tried to do it with live commentary. She got some good responses just because of her accent.
On Twitch, Emz streams under the username xxEmz.
External links
Community content is available under
CC-BY-SA
unless otherwise noted.