Excl
Total level
1932
Combat level
118
Started playing
2004
Ended playing
2013
Influences
Dark Arm3, TehNoobShow
Known for
YouTube videos, Runescape Machinima Contest 2009 Winner
[view] • [talk]

Excl was a RuneScape player and a video maker who started making YouTube videos when he sent a video idea to Dark Arm3.[1] He was inspired by other video makers such as TehNoobShow. He always is wearing the Quest Cape in-game and in all of his videos. The name "WGDVids", one of his YouTube pages, comes from the video-making clan WatchGuard Videos, which he used to be a member of. In early 2010, he created a new account, "ExclVids", so he could remaster some of his old videos, remove copyright material, and attempt to become a YouTube partner. However, he returned all the videos to WGDVids and deleted Exclvids.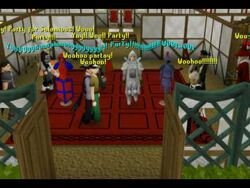 Some of his most popular videos are "Drugs in Runescape"[2] and the "20 Runescape phrases that can be taken the wrong way" series.[3]
He won a Jagex RuneScape Machinima Contest in 2009, and won Lifetime Membership, along with a trip to Jagex and England.[4] He made a special appearance at RuneFest 2010 and announced the winner of the Short Story category in the first Golden Gnome Awards.
Excl was formerly a Player Moderator, but due to inactivity, he lost the privileges.
In 2012, Excl became less and less active in RuneScape and created less RuneScape videos, which were limited to "Daily Email with Excl." He slowly began transitioning to Minecraft and making Minecraft videos, but he still retained most of his fan and subscriber base, and may even have new (Minecraft) subscribers. In one of his "Daily Email with Excl" videos,[5] he explains ten reasons why he has quit RuneScape.
His Minecraft videos feature many former famous RuneScape video makers, such as Logdotzip[6] and GizzyGazza.[7] Despite his move to Minecraft, Excl's channel WGDVids still contains all of his RuneScape videos.
After being inactive for over a year, Excl released a video announcing his official retirement.[8]
References
External links
Community content is available under
CC-BY-SA
unless otherwise noted.