m

Line 11:
Line 11:
 

'''Excl''' is a ''RuneScape'' player most famous for his [[Wikipedia:YouTube|YouTube]] videos.<ref>[http://www.youtube.com/user/WGDVids WGDVids].</ref><ref>[http://www.youtube.com/user/ExclVids ExclVids].</ref>

 

'''Excl''' is a ''RuneScape'' player most famous for his [[Wikipedia:YouTube|YouTube]] videos.<ref>[http://www.youtube.com/user/WGDVids WGDVids].</ref><ref>[http://www.youtube.com/user/ExclVids ExclVids].</ref>

 
 
−

According to a video of his, he started making YouTube videos when he sent a video idea to SladeakaKevin,<ref>[http://www.youtube.com/user/SladeakaKevin SladeakaKevin].</ref> known as Darkarm3 in-game. Apparently SladeakaKevin never replied, so that inspired him to make videos himself along with Bereaver_666. He is inspired by other video makers such as Tehnoobworld ([[Tehnoobshow|TehNoobShow]] in-game). The name '''WGDVids''', one of his YouTube pages, comes from the video-making clan WatchGuard Videos, which he used to be a member of. In early 2010, he created a new account, '''ExclVids''', so he could remaster some of his old videos, remove copyright material, and attempt to get YouTube Partners.

+

According to a video of his, he started making YouTube videos when he sent a video idea to SladeakaKevin,<ref>[http://www.youtube.com/user/SladeakaKevin SladeakaKevin].</ref> known as Darkarm3 in-game. Apparently SladeakaKevin never replied, so that inspired him to make videos himself along with Bereaver_666. He is inspired by other video makers such as Tehnoobworld ([[Tehnoobshow|TehNoobShow]] in-game). The name '''WGDVids''', one of his YouTube pages, comes from the video-making clan WatchGuard Videos, which he used to be a member of. In early 2010, he created a new account, '''ExclVids''', so he could remaster some of his old videos, remove copyright material, and attempt to get YouTube Partners.

 

[[File:Excl.jpg|250px|thumb|Excl is in the middle along with some other notable RuneScape players; [[Darkarm 3]], [[Tehnoobshow]], [[A Chat]] and [[Chiszle]] are all in this picture.]]

 

[[File:Excl.jpg|250px|thumb|Excl is in the middle along with some other notable RuneScape players; [[Darkarm 3]], [[Tehnoobshow]], [[A Chat]] and [[Chiszle]] are all in this picture.]]

 

Most of his videos are scenarios that involve a conflict. He also has videos that are jokes, made to be funny. One of his most popular videos is "Drugs in Runescape."<ref>[http://www.youtube.com/watch?v=aMpnKVUhg2I Drugs in Runescape].</ref>

 

Most of his videos are scenarios that involve a conflict. He also has videos that are jokes, made to be funny. One of his most popular videos is "Drugs in Runescape."<ref>[http://www.youtube.com/watch?v=aMpnKVUhg2I Drugs in Runescape].</ref>

Line 17:
Line 17:
 

He won a Jagex RuneScape Machinima Contest in 2009, and won Lifetime Membership, along with a trip to Jagex and England.

 

He won a Jagex RuneScape Machinima Contest in 2009, and won Lifetime Membership, along with a trip to Jagex and England.

 
 
 
+

{{cite}}

−

Recently, both of his channels are made unavailable due to him leaving RuneScape for a while to take care of his newborn child.{{cite}}

 
 
 
−

Excl was formerly a Player Moderator, but due to inactivity, he lost the privileges.

+

Excl was formerly a Player Moderator, but due to inactivity, he lost the privileges.

 

== References ==

 

== References ==

 

{{Reflist}}

 

{{Reflist}}
---
Revision as of 22:07, 7 December 2012

Excl is a RuneScape player most famous for his YouTube videos.[1][2]
According to a video of his, he started making YouTube videos when he sent a video idea to SladeakaKevin,[3] known as Darkarm3 in-game. Apparently SladeakaKevin never replied, so that inspired him to make videos himself along with Bereaver_666. He is inspired by other video makers such as Tehnoobworld (TehNoobShow in-game). The name WGDVids, one of his YouTube pages, comes from the video-making clan WatchGuard Videos, which he used to be a member of. In early 2010, he created a new account, ExclVids, so he could remaster some of his old videos, remove copyright material, and attempt to get YouTube Partners.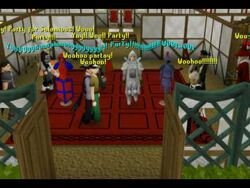 Most of his videos are scenarios that involve a conflict. He also has videos that are jokes, made to be funny. One of his most popular videos is "Drugs in Runescape."[4]
He won a Jagex RuneScape Machinima Contest in 2009, and won Lifetime Membership, along with a trip to Jagex and England.
Excl was formerly a Player Moderator, but due to inactivity, he lost the privileges.
References
External links