Fairyback was a level 10 skiller who started playing around 2003-2004. In the first few years, he did not focus on skilling that much. He merched his way up to enough money to go skilling without any money problems. After getting 99 Woodcutting, Firemaking, and Hunter he took a break. He came back in 2010.
2010-2012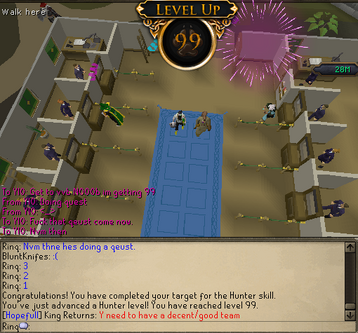 In the first few months of 2010, Fairyback, who changed his name to Rinq, gained 4 new 99's. These were Cooking, Runecrafting, Thieving, and Fletching.
2012-present
He took a small break in the summer of 2012, but right after the summer he came back and went full on with his skills. He gained a lot of 99's (Smithing, Agility, Construction). When Evolution of Combat was announced, he wanted to experience at least some of the old combat style, so he trained his combat.
He stopped doing combat at level 81. The only combat he did after that was Magic in 2013. When the RuneScape 3 announcement came, he quit playing because he had no interest in playing RuneScape 3. He is 5 99's away from becoming maxed in non-combat skills. He has an estimated wealth of 4.8b.
Community content is available under
CC-BY-SA
unless otherwise noted.