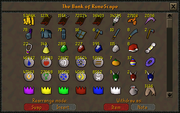 Gregechidna6 is a player killer. As of August 2011, he has five level 99 skills.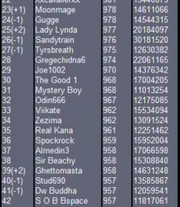 RuneScape career
Gregechidna6 started playing RuneScape in February 2001, and became the third player to achieve level 99 Attack, Defence, Strength and Hitpoints (now known as Constitution). He quit the game in August 2002, but returned in August 2006, four years later.[1]
In a 2006 interview, he stated that it was a little saddening returning and not feeling an important part of it anymore. In addition, he mentioned that he enjoyed the game very little.[1] He has since quit the game. As of 6 August 2011, he has an overall level of 1,650 and five level 99 stats.[2]
References
External links
Community content is available under
CC-BY-SA
unless otherwise noted.