His Lordship (July 2003 - Present) is a RuneScape clan leader and YouTube videomaker. He served as the leader of The Wilderness Guardians clan from December 2003 to 2015, and remains active in WG in the historic role of "Founder". He is the longest-serving clan leader in RuneScape.
He has produced several popular YouTube videos and is a Golden Gnome finalist with nearly 7,000 subscribers, and has visited Jagex studios twice. He is often associated with his tag line "Hi, I'm His Lordship, the [leader/founder] of the Wilderness Guardians". His YouTube videos are directly responsible for the rejuvenation of the Wilderness in Old-School RuneScape.
RuneScape and Clan History
His Lordship played RuneScape actively from 2003 to around 2016, and recently returned to activity in mid-2020. For the vast majority of his RuneScape career he was the leader of the Wilderness Guardians.
2003 - 2006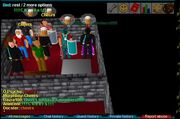 His Lordship was introduced to RuneScape by his brother, '''Lord Xin''', in July 2003. In December 2003, His Lordship was PKed while collecting runes at the Dark Warriors' Fortress, resulting him developing an anti-PKing stance and establishing WG (originally known as the "PK PKs") as an anti-PKing clan on 6 December 2003. His Lordship led WG for the majority of 2004 and 2005.
The clan grew steadily, mainly due to their unique and innovative approach to PvP. WG was the first clan to make use of the Ancient Magicks spellbook in a war in July 2005, which His Lordship considers to be one of the most enjoyable fights of his career. His Lordship also produced a large amount of media for the clan, including several "war preparation" videos, short animated movies, and a Flash website which recieved widespread acclaim within the wider clan community.
Despite their success, His Lordship and the clan had their fair share of issues during the early years. A backstabbing incident in August 2005 led to His Lordship recording an aggressive rant over TeamSpeak to be played to the persons responsible. The recording became public and made into a soundboard, "His Lordship on [TS/TeamSpeak]", which has become one of WG's most well-known pieces of media. His Lordship also stepped down from leadership for several months in 2006, and the replacement leadership took the clan in a vastly different direction to what His Lordship had originally envisioned for WG. The resulting tension between the leadership culminated in His Lordship closing the clan for a few hours in December 2006 ("D-Day") - the only time WG has ceased operations in its history, and subsequently resulting in a loss of over 100 members.
2007 - 2012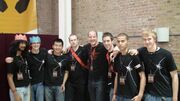 His Lordship returned to leadership and attempted to rebuild the clan in the aftermath of D-Day. Though WG would never reach the same level of in-game success, they gradually returned to stability through new media such as recruitment videos presented by His Lordship using chroma key compositing, and his third and most popular animated Flash movie in 2007. However, progress was stunted by the updates to PvP and free trade in December 2007 - His Lordship strongly opposed the changes and was instrumental in the protests against them.
In 2008 the clan took a more community-based approach and began hosting real-life meetings, the first of which (in January 2008) was centred around His Lordship's holiday to Europe. More than ten subsequent real-life meetings have been held around the world since, including several RuneFests beginning with the first in 2010. His Lordship also began manufacturing real-world merchandise, including WG-branded t-shirts in 2008 and pens in 2010. WG and His Lordship also established a positive relationship with Jagex around 2010 - the leader and the clan were featured in multiple news posts, interviews and galleries over the next few years.
From 2010 onwards His Lordship also produced several animations and an original RSMV as entries for various RuneScape media competitions, one of which came runner up in the 2010 Golden Gnome Awards. In 2012, in an attempt to revive the diminishing PvP aspect of the game, His Lordship collaborated with Vio to produce his first documentary, "The Wilderness - An Unathorised Biography". The video recieved critical acclaim from the wider RuneScape community, and is considered one of the most influential works related to the game.
2013 - Present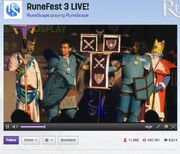 His Lordship continued to lead the clan with the release of RuneScape 3 and Old-School RuneScape in 2013, though both he and the clan maintained a balance of activity in both games. He also attended several subsequent RuneFests up until 2016 - in 2013, he put together a Rune armour cosplay with Vio and came runner up for a Golden Gnome for the second time. His Lordship continued to produce in-depth videos and documentaries critical of or suggesting changes to RuneScape 3 and Old-School RuneScape, primarily focusing on the PvP aspect of the games. His views recieved considerable support, and his YouTube channel continued to grow result from 2013 to 2016.
Despite His Lordship's success, his activity and interest in the game began to decrease over the years, and around 2014 he stepped down from leadership of WG and took the ceremonial rank of "Founder" - though he had led the clan actively for around ten years and is considered the longest-serving leader of any RuneScape clan. His activity in regards to RuneScape came to a definitive end in late 2016, though he provided narration for a 2019 video covering WG's history for their fifteenth birthday.
In 2020, largely as a result of the Corona virus pandemic, His Lordship returned to activity - resuming production of RuneScape-related videos such as his "Runescape Recipes" series, as well as "Across the Ditch" - a series of podcasts with Vio about various aspects of WG's history. He continues to hold the rank of Founder in WG as of August 2020.
Media
His Lordship is one of the most diverse contributors to creative media in the Runescape community, with creations in Flash animations, documentaries, music, digital art, literature and cosplay. His creative output reaches back to January 2004.
Animation
Documentaries
Series
Comedy Videos
Other Appearances
Music and RSMVs
| Year | Title | Role | Notes |
| --- | --- | --- | --- |
| 2009, 2010 | The Guardian Power | Composer, Singer | Clan Theme Song |
| 2011 | Tales from Port Sarim | Composer, Singer, Director | Original RSMV |
Artwork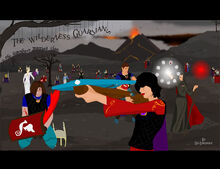 Although His Lordship has produced a great number of digital art creations (mainly for his clan the Wilderness Guardians), only one has garnered attention amongst the wider community. The Wilderness Guardians from Runescape's Players Gallery 21 remains one of the clan's most iconic images.
Cosplay
In 2013 His Lordship attended Runefest 3 in cosplay of the RS3 version of rune armour, partnered with Vio (DG Keanu) in OSRS rune armour, holding the Wilderness Guardians vexillum. The pair came second place to Saradomin in the cosplay competition, and were featured in the Runefest Cosplay video for that year. This marked His Lordship's second Golden Gnomes nomination.
In-Game
His Lordship has been playing Runescape since July 2003, but his in-game accomplishments are few; he is best known for his community contributions, most notably for being the longest serving leader amongst all Runescape clans.
In his early gaming career he wrote the first guides to numerous quests, including Troll Romance[1] and most impressively Monkey Madness[2], a feat which took over twelve consecutive hours without any assistance.
Upon the release of construction in 2006 His Lordship was ranked in the top ten players for the skill after three days, and kept this position for approximately one week.
Jagex Office Visits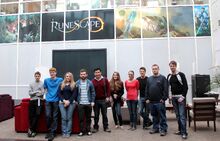 His Lordship has been invited to visit Jagex's office twice. The first visit was on April 1st 2014, where he and nine other high-profile players were invited to visit Jagex to help develop the upcoming legacy mode for Runescape.[3]
The second visit was in May 2014 and was a more informal tour of the offices as part of birthday celebrations of a fellow player and friend, Marbian. The visit included a preview of upcoming game content followed by dinner with Mark Gerhard, Mod Pi, Mod Jane, and Mod Slayer.
Controversies
As with many high-profile veteran players, a number of controversies have surrounded His Lordship over the years. These controversies make him simultaneously respected and hated by the Runescape community.
Teamspeak Rant
In August 2005, A group of Ex-WG persuaded some WG members to mutiny the clan on a PK trip while His Lordship was absent. Owing to time zone differences, His Lordship found out the next morning while the perpetrators were asleep, and so recorded a "rant" to be played to the so-called "TeamSpeak Crew" later. All of them were banned and exiled from WG, but the recording was leaked. A soundboard of the rant was made shortly afterward, and whereas before His Lordship was unheard of anywhere outside his clan, he was not infamous amongst PKers.
The PKing clan world continues to mock His Lordship over this incident in 2005, often quoting most intense phrase "nothing left". His Lordship was interviewed by Jagex about this rant many years later, and admitted that he himself found it funny.[4] Despite the age of the recording, it is still brandished against him.
Real Life Meetings and Merchandise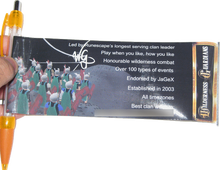 His Lordship has held over a dozen real life meetings with his clanmates around the world, including at Runefest. Whilst these are social events, around the time of the first meeting such events were very uncommon. As such the clan's antics at its real life meetings were mocked for being nerdy, with the community assuming WG had taken the game too far. However, His Lordship viewed this as the opposite of being a nerd as the events turned online friendships into real friendships.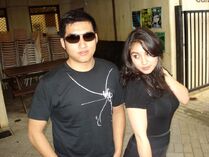 His recruitment movies for the Wilderness Guardians are of him personally facing a camera and talking about his clan, and the enthusiasm with which he talks is often considered to be taking the game too seriously.
Additionally, His Lordship has manufactured clan merchandise such as T-Shirts and pens, and sold these to clan members around the world. As an individual His Lordship has always demonstrated unconventional behaviour, and is keen to merge his online identity with his real life one. Because such behaviour does not exist elsewhere in the community it is often ridiculed.
Ego
On numerous occasions His Lordship has been accused of egotism due to the manner in which he speaks, and his often competitive nature. This is particularly prevalent on fansites such as Zybez. One notable example of egotistical behaviour was when he was snubbed by Jagex for inclusion amongst the finalists of the Golden Gnomes video contest. His entry, Tales from Port Sarim, was overlooked even though it was popular amongst players, and so he took to the official forums to rant at Jagex, promising them he would one day "mail you a picture of my Oscar".
His Lordship has often had to apologise for being egotistical, and has attributed his behaviour to childhood bullying. During his adult years there have been far fewer accusations.
Clan Failures
One common criticism of His Lordship is that he is unable to effectively lead his clan. This stems from the fact that whilst he has been a clan leader for twelve years, it was only during one of those years (2006) that the Wilderness Guardians was recognised as a top tier clan. The criticism is further strengthened due to the fact that the clan continued to grow stronger after he stepped down from leadership for a few months that same year, and that the clan's success in Darkscape came about whilst he was absent.
Amongst his own clan members, however, he is highly respected, and claims of ineffective leadership have lost momentum since around 2010.
Initial Opposition to OSRS
The PKing community was infuriated by His Lordship when they read that he opposed the establishment of old-school Runescape. Prior to this, His Lordship had secured their good will following the enormous success of his campaign to revitalise the wilderness (see The Wilderness: An Unauthorised Biography, above). This was shattered with a forum post and subsequent video denouncing the old-school servers proposal.
His Lordship's main fear was that the clan community would be divided and the PKing agenda would become diluted; he still had hope for a total restoration of the main game. The stance that he took would inflict lasting damage on his reputation. He remains uncomfortable with the fact the game is divided into several player bases because players who choose an allegiance will inevitably miss out on content; RS3 players lack support for PKers, and OSRS players lack new content such as Prifddinas.
Real Life
In real life His Lordship is known as Gene, an Australian of Asian ancestry. His major passions outside Runescape include composing music, bodybuilding, travelling (and hiking) and cooking, and is an avid collector of board games.
Trivia
His Lordship has a tattoo of his clan (WG) on his back, a souvenir from a drunken real life meeting with clanmates in 2013.
There is currently downloadable content for Age of Empires II on Steam of his teamspeak rant. [5]
By his own reckoning His Lordship has successfully repealed four permanent bans on his one account.
His Lordship has been to five Runefests
External links
References
Wilderness Guardians clan members

Founder

His Lordship

Leaders
Emeriti
Ex-Members
Community content is available under
CC-BY-SA
unless otherwise noted.