Jacare2005
Combat level
110
Started playing
December 2004, May 2005 with the account Jacare2005
Known for
Not famous
[view] • [talk]
Jacare2005 is RuneScape player who started playing in December 2004. He used to play another online game in miniclip called Robot Rage. During that time, RuneScape was ranked first in Miniclip's most played games. His first account was called Glambird, he gave up that at level six, and created 3 more accounts (Guarapuavan, First Legion and Best Phalanx) until he created a stable account, Jacare2005, in May 2005. He became member right away and started training his skills. During 2005, his best skill was mining, but nearing 2006, he started woodcutting, making lots of money with yews. He was scammed of his black armour in June 2005 by the trimming scam, and never again fell in a scam. Another skill important to him was thieving, with thieving he made his first ever coins(thieving from men), first 10k (selling thieved cups of tea), first 100k (from thieving grey wolf furs), and first 1m (from thieving nature runes).
During December 2005 and November 2006, Jacare2005 took a break from runescape to go play Age of Empires I. In June 2006 he joined a clan called Chaos Legion, but only stayed in it for a few weeks, and after that got 75 woodcutting. During July, he took another break from RuneScape, this time to play Age of Empires 2. In 9/10 he joined the clan Abyssal Legion. During December 2006 and January 2007, he completed Desert treasure and made 5k yew long bows and alched them, gathering all the materials necessary. In the middle of February 2007, Jacare2005 quit Runescape for the longest time, only coming back 4 months later.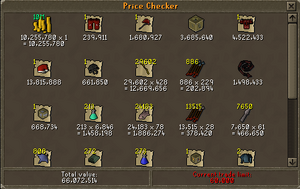 After coming back he gathered enough money for Guthans (7.5M at the time) only to lose it and other expensive items after lagging during a fight in Tzhaar City. To make the money back he made 22k yew longs from scratch again and alched them, getting 82 magic. During this time he found a thread in the forums called Brunhoff's DoIt Yourself, created by Brunhoff. He quickly became an important member of the DIY community in runescape. During the rest of 2007, Jacare2005 spent gathering money for a Santa Hat, in December he finally managed to buy one. After that, he started getting his first 99: woodcutting. It took two months of cutting yews to finally achieve it in February 2008.
2008 was a slow year for Jacare2005 due to real life issues. The biggest achievement was a quest cape in June. He became involved with the RuneScape wikia and RuneScape Fan Fiction Wikia in January, making many edits and articles during the woodcutting training.
External links