Kags

Total level
2898
Combat level
138
Nationality
American
Started playing
2004
Achievements
• NPC Portmaster Kags (Menaphos Ports District)

• Ports Completionist

• Trimmed Completionist Cape

• Highest Shattered Worlds reached

• RuneScore >28,900

Clan
SkyGuardians
[view] • [talk]
Kags is a famous portmaster known for his colossal guide on Player Owned Ports and the Arc Region: Kags POP Encyclopedia V6, as well as his progress in pushing the limits of Shattered Worlds.
He was added as an NPC to the game in June 2017 with the release of the city of Menaphos.[1] Both his title and name were added as the NPC Portmaster Kags located in the Ports district of Menaphos and responsible for ferrying players to numerous locations across the desert as well as starting the journey to become your own slayer master.
He is the first and currently only player to reach world 500 in Shattered Worlds.[2] He is responsible for suggesting multiple improvements and fixes that have been implemented to the combat minigame (mobs past world 115 giving full combat XP; pets displaying highest world reached when overriding familiars, etc).
Guides to Player Owned Ports
Since the release of Player Owned Ports in 2012, he has written guides on it for half a decade. Over the years, the information accumulated into an encyclopedia which constantly grows larger as time passes and is still updated multiple times a week.
- Kags V1 had 20 sections.
- Kags V2 had 40 sections.
- Kags V3 had 60 sections.
- Kags V4 had 80 sections.
- Kags V5 had 180 sections.
- Kags V6 (work in progress) will have 220 sections.

Step-by-step guides (includes both recommended crew and recommended buy order for each region of Ports, Arc-Shield region guides), analyses of mechanics, tips & tricks, various hiscores, Ports Completionists, GE prices, etc. for Player Owned Ports as well as The Arc an be found in the encyclopedia. The guides on Kags V5 are even used by Jagex staff. [3][4]
Hiscores include Ports Completionist (requirements that span the entire scope and breadth of all ports content), Resource Hiscores for the top 5 players in each category, as well as past hiscores of those who reached the highest distance/port score fastest right after the Player Owned Ports release, as well as Ports V2 and Ports V3 expansions.
Influence on Ports & Eastern Lands
He is responsible for numerous Ports suggestions like fixes & additions & improvements, including important ones such as playing Ports anywhere on RS through Captain's Log, changing the degradation system of Ports armor to last much longer, Fleet Admiral title, seeing XP needed for next level of crew and captains, etc.
He helped pushed for the release of the Eastern Lands (Arc region) on the Power Player Poll that came out on January 15, 2016, and received multiple Jagex comments.[5] Eastern Lands - The Arc Region later won the player vote by a huge margin and was released in 2 batches: batch 1 in July 2016 and batch 2 in October 2016.[6]
He successfully pushed for 3 RuneLabs ideas to be put into Runescape 2017 Survey, which players vote on in May-June 2016 to determine the major game content updates of 2017. His 4th RuneLabs idea, Elite Sailing Skill, got denied since 2017 was too early to release another skill right after Invention in 2016.
- Eastern Lands: Player Owned Territories[7]
- Ports V4[8]
- Eastern Lands: Skull Region[9]
- Elite Sailing Skill[10]

Recognition
In June 2016, he was the only RS3 player mentioned (by name) in the Runescape Summit Stream and 3 of his RuneLabs ideas were mentioned within a 5 minute time period.[11]
In April 2017, he is in the Runescape Documentary (15 Years of Adventure) for his rework and expansion of his Player Owned Ports Arc through Shield region step-by-step guides.[12]
In June 2017, he was put into the game as Portmaster Kags, an NPC (non-player character) with the release of the city of Menaphos. The NPC "Portmaster Kags" is located in Menaphos, Ports district, southwest corner. He offers transport to Pollnivneach, the Sunken Pyramid, Menaphos, Jalsavrah Pyramid, Exiled Kalphite Hive, Nardah, the Heart of Gielinor, Dominion Tower, and the Crondis pyramid during and after the quest Crocodile Tears. Travelling with him to the Sunken Pyramid starts your journey to complete the Slayer Codex.[13]
In July 2017, he is in the Month Ahead Q&A Stream and recognized for his world-renown Player Owned Ports guide.[14]
In September 2018, he is recognized for his Shattered Worlds progress in a Runescape Q&A Stream during a discussion on the uselessness of tank armor and if players would actually use tank armor even after buffing them.[15]
In October 2018, he is mentioned during the GameJam stream, during discussion on the weapon diversity project, as a player that would benefit from hit chance increases due to his Shattered Worlds progress.[16]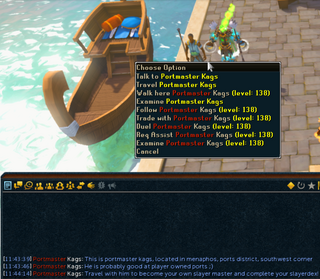 Other Achievements
Completed over 2,800 achievements
RuneScore over 28,900
Trimmed Completionist Cape
Over 5 billion total XP
External Links
References