Kibim

| | |
| --- | --- |
| Other names | Kibe Bill and Kibe Bil (another account) |
| Nationality | Brazilian |
| Started playing | 2004-2009, started again in 2015 |
| Clan | Brazilians In Wars (clan chat: "B I W") |
[view] • [talk]
Kibim was a RuneScape player who started playing in late 2004. He is known for being the founder of the clan "Brazilians In Wars" which was popular in the Brazilian community. He has another account named "Kibe Bil" which was a pure Strength 99, and the other combat stats are low.
Currently
Kibim plays Old School RuneScape with new friends, still looking for a better clan. He has a channel on Twitch called "kibim_" that rarely is online because of his computer.
His accounts' names are: Kibim Br, Kibe Bil, and Kibe Bill.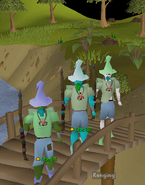 This article is a stub. You can help the RuneScape Players Wiki by expanding it.
Community content is available under
CC-BY-SA
unless otherwise noted.