Kngkyle
Total level
2774
Combat level
138
Achievements
Formerly rank 9 overall, 200m in 15 skills
Known for
His rankings, founding Skillers United
Clan
Skillers United
[view] • [talk]
Kngkyle is a long-time RuneScape player best known for his hiscores rank and clan leadership. In 2007, he created the clan 'Skillers United', which remains one of the oldest skilling clans still in existence. He maxed on January 1st, 2009, and peaked at rank 9 overall in 2012. Since then, he has fallen off the front page.
History
Back in RuneScape Classic, Kngkyle was part of the world 18 fishing guild community. He was also an Admin at the popular helpsite RuneHQ when it was first launched. At the release of RuneScape 2, he was around 95 combat.
Although always a skiller, Kngkyle joined multiple PK clans in the early days of RuneScape 2. These included The Empire, The Dynasty and RuneScape Dinasty, the arch-rival of the popular PK clan Damage Incorporated.
He meanwhile continued to train his skills and in early 2007 turned his focus to maxing out. Unhappy with the skill clan options of the time, he founded Skillers United with Empror1, another high ranking skiller. Soon after, he became a Player Moderator.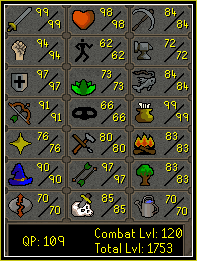 Playing on-and-off through 2007 and 2008, he eventually maxed out on January 1st, 2009 by finishing 99 Construction. He was rank 108 overall upon maxing. By January 1st, 2010 he was rank 33, and by May 2011 he re-maxed to rank 11 overall by completing 120 Dungeoneering.
In late 2011, he gave up his Player Moderator status to host dicing games. Not willing to pay ridiculous buy-ins, he used his own friends chat, and profited greatly until dice bags were removed from the game two months later.
Since then, he has slowed down due to real life obligations but has remained an active player and clan leader. Following the completion of Divination in November 2013, he re-maxed again to the front page at number 25 overall. He remains leader of Skillers United as of October 2020.[1]
As of October 2020, he has obtained 200m XP in 15 skills, with a 4.48 billion total XP.
References
External links
Community content is available under
CC-BY-SA
unless otherwise noted.