Larryr
Combat level
86
Started playing
2002
Ended playing
Late 2006
Known for
Being 1st in Runecrafting for a long time; running a very popular and successful business
[view] • [talk]
Larryr is a RuneScape Player Moderator who quit late 2006. She is most famous for being the number one Runecrafter of RuneScape for a very long time, and for having 5 times the next nearest competitors experience. She was also the second person to achieve 99 Runecrafting.
Throughout her RuneScape career, she encouraged many players to continue playing the game by giving them gold pieces (GP).
On April 4 2011, a new NPC named Larriar was made, who is the master of Runecrafting and sells the cape of Runecrafting.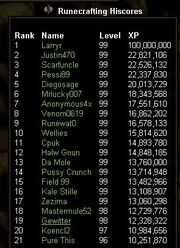 History
See also: Larryr's Runecrafting business
Larryr's user was created in 2002 by an adult female. Her son was the one who originally asked her to come to RuneScape, and Larryr was named in honor of an immediate family member.
Larryr trained skills and did some quests, but did not become well known until after the Runecrafting skill was released in 2004. She then came up with an idea of creating a Runecrafting business, and eventually earned enough GP to hire people for her business. She hired her first runner on May 15 2004, and reached 99 Runecrafting four months later, on September 23 2004, becoming only second to do so, after Kale Stille.
Larryr created the business in order to gain XP in Runecrafting quicker and to help other players. She crafted nature runes and made 200-250 thousand XP each day on average. Her business was also one of the first created, and remains one of the biggest and longest running Runecrafting businesses ever. It remained active until Larryr quit in 2006, when it was disbanded. Some tried to keep the business going after her disappearance, but it did not work out as none of the managers or CEO's of the business could craft double nature runes and were losing a lot of money quickly.
Larryr left with just over 157 million XP in Runecrafting, a score that was around 5 times higher than the ranked 2 person at the time and that is known as a gaming first: prior to this time, it was unheard of to have a score five times higher than the closest competitor in a MMORPG game for a long period of time. This score also remained unchallenged for many years, but was eventually beaten by Phoenix Odin almost four years later, on September 14, 2009[1] (about five years after she gained rank 1).
Progression of Runecrafting Score
| Date | Rank | Level | XP |
| --- | --- | --- | --- |
| May 15, 2004 | 3 | 75 | N/A |
| July 5, 2004 | 2 | 83 | N/A |
| September 23, 2004 | 1 | 99 | N/A |
| November 26, 2004 | 1 | 99 | 25 million + |
| December 17, 2004 | 1 | 99 | 30 million + |
| January 5, 2005 | 1 | 99 | 40 million + |
| February 14, 2005 | 1 | 99 | 45 million + |
| March 4, 2005 | 1 | 99 | 50 million + |
| July 19, 2005 | 1 | 99 | 75 million + |
| October 1, 2005 | 1 | 99 | 100 million + |
| July 25, 2006 | 1 | 99 | 150 million + |
| 2006 | 1 | 99 | 157 million + |
Disappearance
Before quitting, her account was temporarily banned once due to security reasons, but this only lasted one day.
She quit because her son was in Everquest 2 and asked her to join that game with him. Her reasons for leaving were not because of the trade limit update.
After she quit playing and shortly before the trade limit update was set though, Larryr returned to the game once more so that she could have MrsChrystler, a former CEO of Larryr's business sell her last white partyhat and give the money away to other RuneScape players. The money was given away in 100 K amounts to many new players that no one from the team had met before. The money was passed out by CEOs and Managers. During this time, some people also tried to talk her into getting 200 million XP in Runecrafting, but she refused to do so.
Larryr today is not in gaming much anymore, she is presently working diligently in art to become an even more famous real life artist, stating: "Its the treasures we leave behind that positively inspire the world that really make a true difference for having lived." When asked in September 2010 if she will ever return to RuneScape Larryr gave the following comment, which gives a glimmer of hope that she may change her mind about returning: "I'm not eager to return, but who knows what I'll choose to do at 70, giggle."
Stats
With the exception of four skills released after she quit, all of her skills are level 63 or higher as of 2011; the highest one being Runecrafting at level 99. As of 2011, she has a total level of 1502.
See also
References
External links