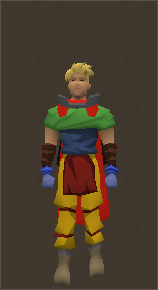 Lokizorro is a free-to-play RuneScape player. He was rank 10 Overall and rank 1 Overall of Germany. To reach all his great achievements, he played for eight years, with some large breaks. His current goal is to reach the maximum possible Total level (1615 for free players).
At 30th of June, Lokizorro reached Dungeoneering level 120. To reach level 99, he teamed up with El Popo1, the former best player in Free to Play. After that, he teamed up with Kameeru, and trained Dungeoneering with this player until level 119. They reached level 120 together, by using a Lamp.
Stats
Attack level 99, Strength level 99, Defence level 99, Ranged level 99, Prayer level 93, Magic level 99, Runecrafting level 87, Dungeoneering level 120, Constitution level 99, Crafting level 99, Mining level 99, Smithing level 99, Fishing level 99, Cooking level 99, Firemaking level 99, Woodcutting level 99, Total level 1596. As of November 2, 2011 he has been permanently banned.
Community content is available under
CC-BY-SA
unless otherwise noted.