Love Israel
Total level
2736 (3000+ virtual)
Combat level
138
Other names
Izzy

Sarah

Nationality
American
Started playing
2006
Achievements
Maxed, Completionist, Master Quest Cape
[view] • [talk]
Love Israel (also known as Izzy) has played RuneScape since 2006 when a friend showed her the game. Her home world is 100. She loves to chat with new and fun people. The god she follows is Seren.
Izzy has all 26 99s: Cooking, Firemaking, Thieving, Prayer, Fletching, Herblore, Magic, Crafting, Construction, Smithing, Woodcutting, Dungeoneering (120), Defence, Constitution, Range, Attack, Farming, Strength, Mining, Agility, Divination, Fishing, Hunter, Runecrafting, Summoning, and Slayer. She also has a quest cape. She got her max cape on November 17th, 2014!
On March 15th, 2017, Love Israel achieved level 99 Invention. She is once again, maxed. She reached level 120 Invention on March 26th, 2017, bringing her total level to 2715.
On May 16th, 2017, Love Israel Achieved the Completionist Cape for the first time.
On February 25th, 2018, Love Israel earned her first Master Quest Cape
120's:
Dungeoneering, Invention, Firemaking, Cooking, Agility, Slayer, Construction, Runecrafting, Summoning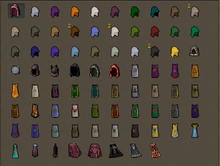 Gallery
External links
Community content is available under
CC-BY-SA
unless otherwise noted.