Jurassic World: Dominion Dominates Fandom Wikis - The Loop
Play Sound
MrAwesomes was the owner of The Awesomes Clan, which he founded on 12 April 2011. It is now owned by E 2 THE DDIE, who co-founded the clan on the day of the Clan Camp update. MrAwesomes claims to be the first person to achieve 99 cooking while fighting the Kalphite Queen, by putting chocolate on a cake during combat. This is shown in the Youtube video "Cooking with the Kalphite Queen".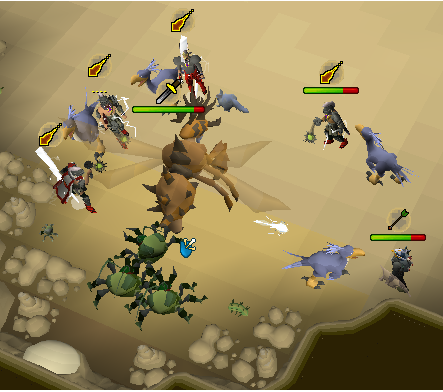 MrAwesomes often acted as tank for clan PvM events, using non-standard setups to accomodate the ranged combat style, in which he has a higher level than all other combat skills.
MrAwesomes has level 99 ranged and cooking. Prior to the release of the divination skill, he had reached at least level 60 in all skills.
MrAwesomes started playing RuneScape in the year 2005, at some point between Hallowe'en and Christmas, as measured by his collection of holiday items. He quit RuneScape in 2012, and allocated his clan's deputy owner as the new owner so that the clan could continue without him. After quitting, the clan was renamed to "Frozen Raiders".
He loves tea, and bought over 100,000 cups of tea on the grand exchange.