Ownage Omg is a Runescape player and Forumer who has been actively playing the game on and off since August 2007.
He is easily recognised by his amazing purple hair and top hat, which he is adamant on keeping.
Basic Information
He is well known among the Old School Runescape community and he is actively playing today, managing to achieve a 1500 total level and various skills in the 90's.
He likes to have the title "The Mysterious" as he says it suits his personality IRL very well, you don't quite know what there is to him.
He's begun spending his time on RS3 which seemed unlikely at first but thanks to the release of Legacy, he is gradually re training his stats on their and having fun along the way.
Hobbies & Interests
He is very enthusiastic about pking and has a pure account named "R ANGE R" and a YouTube channel called "OwnageOmgRS" where he uploads his content.
In his spare time, he likes to do various skills and of course, go pking on what ever account he decides to use.
He's recently grown out of pking however as he'd rather PvM or skill which is a heck of a lot more profitable as opposed to pking which never will be due to Jagex not listening to their players.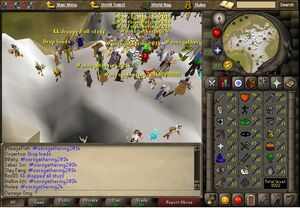 He sometimes turns his chat on in game so you can feel free to message him about any RS related query you may have as he enjoys being a know-it-all Runescape Geek.
The picture on the right is the Old School Runescape Gathering 2014, hosted by player mod Ice Crush, which took place on the 20/04/2014 at 5PM GMT.
His best friends in game are StarDerp, Froud, Icyvespera, ScapeRune, Live in Hell and Twillow and he's stated that he wouldn't still be playing the game today if he hadn't have met these amazing individuals along the way.
Those are the only individuals he's named but he says everyone on his friends list in important to him in some way shape or form.
External links
Community content is available under
CC-BY-SA
unless otherwise noted.