Paul Gower

Paul Gower in real life
Owner
Paul Gower
Started working
1998
Known for
Being co-founder of Jagex
[view] • [talk]
This article uses content from the RuneScape Wiki (view authors).
Paul Gower was the co-founder of Jagex, along with Ian, and Andrew Gower. In addition, he helped develop and program RuneScape since 1999 when he helped create an early version of the game. The Sunday Times Rich List 2007 ranked Paul and his brother Andrew Gower as the 654th richest entrepreneurs in the UK, worth £107 million. They were awarded the Industry Legend prize at the 2010 Develop Awards.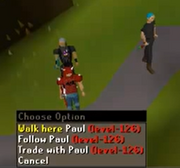 He developed many of the earliest quests in RuneScape, and was the curator of the Mahjarrat quests.