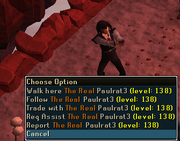 Paulrat3 was the first player to 200M XP in Crafting and has 197M XP in oldschool runescape as of 5/5/2014. He has reached at least level 99 in every skill and has reached level 120 in Dungeoneering. He is currently ranked 8.295 on the RuneScape Highscores, as of October 5th 2013.
He has 200 million experience in 10 skills.
External Links
Community content is available under
CC-BY-SA
unless otherwise noted.