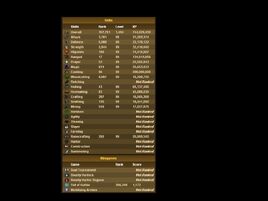 S Diamant Y is a Dutch RuneScape Player Moderator and was the best Free-to-Play player in RuneScape until she quit in mid 2010, being exceeded by El Popo1. She dominated RuneScape during her reign and was never challenged for her number one rank until she quit the game. She is also a dual-moderator, as she has both the Player Moderator status and the Forum Moderator Status; she does not use the RuneScape forums anymore though. She quit playing competitively, but still goes pking once in a while. After El Popo1 got membership, S Diamant Y once again became the best Free-to-Play player with close to 1 billion experience. She has 99 in all free to play skills except for Dungeoneering, which she has 107.
Although she isn't active on RuneScape anymore, she still visits Lunagang, the largest Dutch RuneScape fan-site sometimes. S Diamant Y has a younger sister, D Sweetheart, who was also active on Runescape.
Achievements
Second free to play to max total level of 1494(Before Dungeoneering)

First free player with a total level of 1593(99 in all skills + 99 Dungeonering)
First free player to have a total experience of 500 million
First free player to Achieve 200 million xp in Cooking
External links
Community content is available under
CC-BY-SA
unless otherwise noted.