Snail Along, is a runescape player and video maker. His youtube is Snail Along RSHe is most known for his series "road to pro" and "rebuild to riches". He currently has over 460 subscribers and makes videos every 2-3 days. 
His first 99 was Runecrafting, just after the release of runespan. Though, having 99 Runecrafting doesn't go down well (having the untrimmed cape) as his clan mates accused him of botting, eventually leading him to get kicked from the clan. His current goal on runescape is max cape and getting all high level PvM gear; shown in his road to pro and his rebuild to riches. Rebuild to riches is named after what Snail described was the worst good thing to happen, when he lost 160m (most of his bank) on 4th april 2014. The reason why this was such a 'good' thing to happen, was because this happened on the first day of the easter holidays, a 2 week holiday. This gave him the time to rebuild, doing a lot of bossing with friends, which he described as 'This was possibly the best 2 weeks I have ever had on runescape'.
Runescape Account

Snail started playing runescape in 2007, but only to run around falador farm and randomly skill (as most noobs to the game would do). His first 99 was achieved in May 2012, a considerable amount of time after starting to play. Prior to runespan, Snail had never trained Runecrafting before, but he got 1-99 in about 1 month. He got his first 99 on May 23rd. He was bullied out of his first cl an 'Raybans' because they all thought he was a botter; due to the fact that he didn't speak a lot whilst getting 99 runecrafting (AFK) and untrim RC cape is known as 'the bot cape'.
Snail took a break from being in a clan and decided to focus on skilling. He got to 50+ all skills later that year. His close friend, Theseus II, found a clan called 'we are uk 1'. Snail decided to join that clan to see how it was. He went on to stay with UK1 for over a year, making lots of friends. During this spell at UK1, he managed to get 99 defence in the abyss, 99 firemaking and 99 cooking; his first 99 to be shown on youtube. He made lots and lots of progress when at uk1, playing more than ever before, Achieving 2000 total, and 60+ all stats.
Sadly, lots of high ranks in UK1 left to start a new clan, because the atmosphere in the UK1 clan chat was not quite right. Some called it corruption but snail said Nothing ever stays the same, and I guess it was time to move on, to move forward and to enjoy runescape. Uk jamo created a new clan, called renown which snail Is currently in. He is enjoying runescape more than he ever did, gaining more xp, more levels and more progress than ever before. He is currently on 2290 total, with just over 186M total xp. Here is his adventurers log
Youtube Account
His youtube account was created on August 18th 2013. To start out with, he said that he was going too make comedy videos weekley, but it was shortlived, after only 2 weeks. He decided to make a video on his skill in doing the worlds hardest game, by completing it on video. He did so and it got 301+ views. For some reason, it is still stuck on 301+ today.
Snail was relatively poor in runescape, only having a 16m bank so he decided to get 85 dungeoneering for sinkholes. This is where his youtube took off; he decided to do a new series, name "road to 100m". This series was done weekly, and was the only videos being put out on his channel for a long time. Then, snail had an amazing Idea for his new series. He was going to call it, obscure discovery. At first, his series was just an additional bonus, but then it became apparent he had thought of something quite special. He could teach people about methods that they had never heard of before but were very very efficiant.
Some time later, he decided to make reviews on updates and one video (Runescape 3 - New Level 90 "Malevolent" Power Armour Update ) was very popular. It reached over 300 views  in the first 5 days, which was amazing to snail as no video before had ever surpassed this. Today it is his third most viewd video, at over 1,500 views. On december the first, Road to 100m ended, with snail getting 100m and spending it on his first drygore. Shortly after, he decided to start a a new series called road to pro, which is still going on today, averaging 240 views per episode. It is every 1-2 weeks where snail shows his level and progress in a 4-8 minute video.
On december 25th 2013 snail got a new headset, the Plantronics GameCon 780 PC Gaming Headset. This improved his audio quality dramatically and from this point forward, he gained subscribers rapidly. He started making discussion videos, talking about things that he found/thought were interesting. On January 21st, he got his first 100 subscribers which was a major achievement for him. He continued to make videos about occasional new updates, discussion videos and road to pro; killing the giant mole hard mode as an additional video.
On february the 14th 2014, just a day before his birthday, snail recieved his first payment from youtube. Although it was not much (6p) it was significant to him because he did not expect to be payed for something he enjoys. From here, his youtube grew and grew surpassing 200 subscribers in a month. For april fools he did an ultimate sailing guide, which could be found in the skills tab for that day only.
Sadly, on April 3rd snail lost most of his bank, but this was a good thing. He made a new series called 'rebuild to riches' which is uploaded weekly, showing his drops, price checks of the loot he has gained. He was on 220 subscribers when he made a video on the new easter event/world event 3 which took off. He passed 250 subscribers in a week, more than he ever had before. His youtube is currently (As of June 2014) on 460 subscribers, posting videos every 2-3 days.
Personal Things
Snail made a video on how he got his name; the video can be found either by clicking on the left or clicking here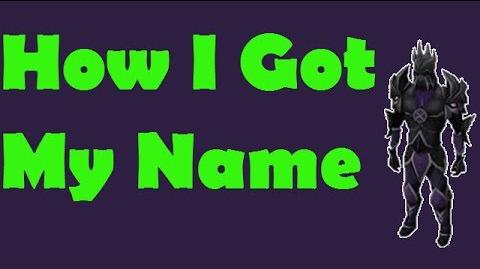 Community content is available under
CC-BY-SA
unless otherwise noted.