Stokenut is a RuneScape celebrity and video-maker, known for being the first player to level 80 and former holder of rank 1 in Dungeoneering, former rank 3 Summoning, as well as his for skills in boss-hunting (as well as being the first player to duo Nex alongside Woox16), staking and dicing.
On August 17th 2012, the account Stokenut was permanently banned from RuneScape. As of 2019, he now plays Old School RuneScape on an ironman account. He previously had over 24,000 subscribers on his official YouTube channel.
PvP Clans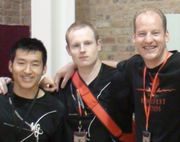 Stokenut first joined the PvP clan Descendant Guardians (junior clan of the Wilderness Guardians) in mid-2005. At the time he was level 75 combat (with 80 magic). DG closed several months later, and he was instantly moved into the senior clan WG, despite not meeting the clan's 100+ combat requirement.
Soon after training up to 100, he was promoted to the rank of Raid Leader (a rank for those in charge of the clan's PvP element). This was during WG's peak in 2006 - over the summer they were fighting other top clans and competing for the #1 P2P clan rank almost daily. He was later promoted to the Council rank. Upon DG's second re-opening, Stokenut was given the rank of Council until their closure a few months later. He was promoted to Council in WG and was one of the clan's most stable leaders - he became the sole remaining Council member for two months during a period where the clan lost over 100 members in just a few days' time.
In early 2007, Stokenut left to co-lead the clan Fidelity, a decision he now regrets. In late 2007 he rejoined WG and was elected to Council for the third time. This lasted for around two years, until he resigned and joined the clan Damage Incorporated for six months. Stokenut was re-elected into Council for the fourth time on December 12th 2009 - this time taking the Warlord position. He served his fourth term for 5 months, and resigned for the final time on May 21st 2010, saying he felt WG was holding him back[1]. He is currently an Emeritus in WG, a rank for retired RuneScape players who wish to remain close to the clan's community.
Skilling
One of Stokenut's main attribues is skilling, in particular Summoning and Dungeoneering. Prior to his original account's ban, he expressed his interest in gaining level 99 in all skills plus 120 dungeoneering, or "maxing out" his character.
Summoning
During RuneScape's first Bonus XP weekend, summoning was still counted as part of the regular multiplier and Stokenut used the opportunity well. He gained over 10,000,000 summoning experience and jumped from rank 899 to 87, announced in a video 10M Summoning XP WITHOUT logging. He would later go on to get rank #3.
Dungeoneering
The Dungeoneering skill was released on April 12th 2010. On April 16th, Stokenut achieved rank 1. On April 20th, he released a video showing he was the first player to level 80 Dungeoneering.
On April 24th, Stokenut released a video of the first Chaotic Longsword in RuneScape. The sword was owned by Poltergosh, and Stokenut filmed its max hits at the Duel Arena while answering some questions about it.
On May 26th, Stokenut achieved 99 Dungeoneering, and released a video of the party as well as the Dungeoneering cape's emote and some screenshots of the period when he was rank 1. He stated at the end of the video he would be going for level 120.
On May 29th of 2010, Stokenut started his own Dungeoneering-based clan Dungeoneering Elites[2]. He led DGE for over half a year, up until their closure on December 8th 2010, due to the decline of active Dungeoneering trainers[3].
Boss-Hunting
Stokenut is an extremely skilled boss-hunter, having soloed all of the major bosses in the game, with multiple videos showing unique achievements in the PvM area. During 2010, he was also a member of the PvM clan Of The Gods.
The Corporeal Beast
One of Stokenut's main adversaries is the Corporeal Beast. He has released multiple videos of Corp battles, which include:
Nex
On January 12th of 2011, Stokenut released a basic Nex guide, discussing how to effectively kill Nex with a team, stating a 4-man team was possible.
On January 31st, Stokenut along with OnTheShelf and Bryan Knox became the first players to trio Nex without bug abuse. Their first trio was attempted on the 25th, but server lag caused it to fail.
On March 3rd, Stokenut and Woox16 became the first players to ever duo Nex without bug abuse or external aid of any kind. He has done more Nex solos with others like Born For PvM.
Staking and Gambling
Another major aspect of Stokenut's career is his success in staking and gambling. He has released multiple duel arena and dicing videos, and was formerly a ranked host in the Win All Day, Dragon Dyce and Fishy clans/friends chats.
His duel arena and staking videos are:
His gambling-related videos are:
Scamming allegations
In late May of 2012, xMarlen (supported by Win All Day) uploaded a video accusing Stokenut of allegedly scamming 13 billion GP from him. The video showed Stokenut accepting a trade from xMarlen worth in the realm of 13b for, and Marlen claims Stokenut then logged out, removed Marlen from his friends list and blocked him on YouTube, and did not return the items (which were lent apparently to make a bank video with).
On May 27th 2012, Stokenut uploaded his own video response which claimed it was an attempt to gain a 13 billion GP refund from Dragon Dyce, the friends chat which he hosted in at the time. He mentioned that his YouTube message settings were set to private (disproving Marlen's claim that he was blocked), and pointed out that there was no conclusive evidence that any scam took place, as the video does not show either party logging out. While Stokenut did not have footage of him returning the trade, he stated that he did have footage of the two staking the wealth bank and forth at the duel arena.
xMarlen and Win All Day's videos have since been removed or made private. On May 29th 2012, Marlen uploaded a commentary entitled The Truth About Stokenut, in which he admitted to lying about his gender (which Stokenut called him out for in his video, providing chat logs with Marlen revealing he was male when his YouTube channel stated that he was female). Marlen retains that the scam did take place. Stokenut has maintained his argument during livestreams that he is innocent, and the two have not spoken since the incident.
Events and Competitions
Stokenut has also hosted several events and competitions for the public, however the majority of these are discontinued and the original videos made private. Three main series were held.
Stokenut's Community Events (SCE), which involved organising group events for boss-hunting, PvP (such as the fight caves and Castlewars), and so on. Around 6 or 7 events were held, each with huge success and some gathering over a hundred players.
The 10m Merchanting Challenge was a competition series, in which players had to use the Grand Exchange to gain as much profit as possible merchanting (with only a starting cashpile of 10 million GP) in the space of 10 minutes. Cash rewards were given to those who submitted videos of them merchanting for the highest profits. Only two competitions were held.
In mid-2012, Stokenut (during his time as a rank in the Fishy friends chat) started livestreaming events such as Santa Hat and Divine Spirit Shield giveaways. Players could bet on the outcome of a flower (1mil = one "try" for the Santa, 3mil for the Divine) and if the flower was black or white, the better would win said item. The livestreams were hosted almost daily, and over 10 santas and 3 divines were given away during the course of the events.
Ban and Real-World Trading
On August 17th 2012, Stokenut and several other influential players in the gambling scene (notably Win All Day) were permanently banned for real-world trading.
Stokenut uploaded the video Aww, shit. on the same day, in which he confirmed his ban and that he admitted to real-world trading, stating that he made at least $50,000 (USD or GBP?), possibly in the realm of $80-90,000 (between $250 and $1000 per day). He did mention that the concept of real-world trading is "terrible" and ruins the game, but that it cannot be eradicated completely from a game with free trade.
Stokenut maintained that despite the RWT (which he could not have mentioned on YouTube for obvious reasons), he had remained truthful and honourable with his moral values, and asked viewers what they would do if they were in a position to gain that sort of real life money. He concluded by saying "...this definitely isn't the end of Stokenut."
Around August 22nd 2012, his YouTube channel was closed in an unrelated accident. He stated on Facebook that he was working to get it restored. The channel returned on September 14th, but with several videos removed as far back as six months previously.
Later RuneScape Career
After his initial ban, he switched to the account Dr Stokenut and continued playing with the release of OSRS. As of 2020, he still plays actively on an ironman account, but has chosen to remain out of the spotlight for the time being.
Filmography
References
External links
Wilderness Guardians clan members

Founder
Leaders
Emeriti

Stokenut

Ex-Members