That Bear

Total level
2490
Combat level
200
Other names
Satya1Avesta
Nationality
Arabian-American
Started playing
2008
Influences
Acher91, Tehnoobshow, Excel, Zezima
Achievements
Maxing in under 4 years, 3,000+ Subscribers on Youtube, Owner of Barbarians 350+ ranked members. Winner of The #BaconQuest Twitter Contest.
Known for
Mod Mark Fangirl, Youtube celebrity
Clan
Barbarians
Plays with private chat off.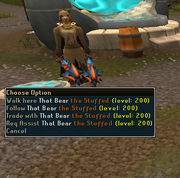 That Bear is a RuneScape Player and a video maker most known for her obsession with Mod Mark and weekly pod-cast, "The N00b and Fr00b Show." 
Beginnings
In early 2013 she received access to the High Level Player Forums on Runescape. There she posted about her long-time infatuation with Jagex Head of Design, Mark Ogilivie . She proceeded to make several Youtube videos that incorporated Mark and her own real faces on the bodies of dancers and actors. The videos included self-made karaoke and parody style tracks that reflected her desires.
Video maker and legend, Chris Archie , featured That Bear's parody "I have no life" in a clip titled; "Well That's...Different." The video returned mostly negative results, trolls, threats, dislikes and hate speech, but extended That Bear's success even further.  
Controversy
Questions still arise if That Bear is a female, but after extensive research and the release of real life video footage it has been verified that, That Bear, is actually an adult woman. 
On July 8th, 2013 That Bear participated in Runescape's Twitter contest; #BaconQuest . That Bear won the contest and was awarded a prize package consisting of a toy pig, shirt, stickers, memory stick, and concept art.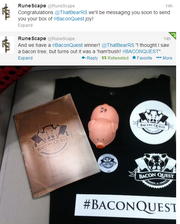 Before That Bear could respond to the announcement, her twitter was hijacked. The hijacker attempted to claim the reward via That Bear's twitter.  The hijacker doxed That Bear and proceeded to access all of her social networking accounts and her Runescape account. The situation was rectified and That Bear recieved her prize package, but her stolen Runescape items were never returned. 
External Links
High Level Forums Topic Quick find code: 261-262-252-64850585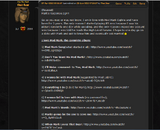 Community content is available under
CC-BY-SA
unless otherwise noted.