thehate

Total level
2898
Combat level
138
Started playing
Early 2001
Known for
First to achieve 99 Agility
Clan
3bo
[view] • [talk]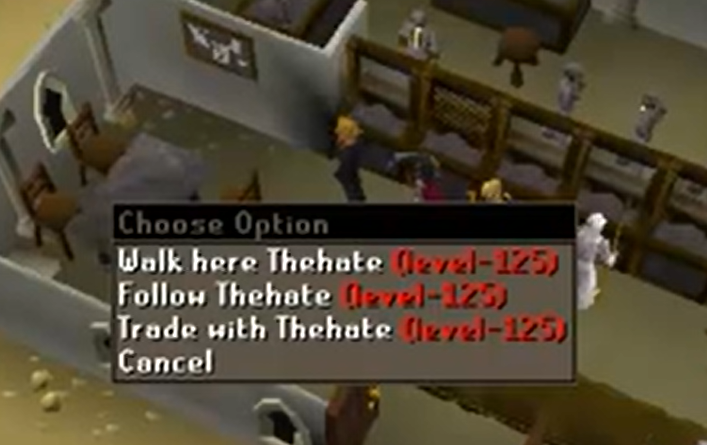 Thehate is a RuneScape Player Moderator most notably known for being the first to achieve 99 Agility. He was also the first player to max at a total level of 2277 after the release of the Hunter skill.
He was consecutively ranked among the first page of the hiscores for over 5 years, competing with Zezima and TheOldNite for Rank 1 overall. He still holds his maxed status as of the release of the Archaeology skill.
He has been stated as saying he began playing in early 2001 when new players were still able to choose a player class within the game upon starting, before Rune Armour and weaponry were in-game. He also states he was one of the first Player Moderators, being crowned the title and status by Paul Gower himself following his help in identifying the infamous knife duplication glitch that allowed players to wield knives in multiple stacked quantities while in combat, and which was heavily exploited in PvP. Thehate was nearly banned for abusing the glitch but instead his information about it lead to him becoming a moderator. He was also among the first batch of 34 players to receive the silver Player Moderator crown icon next to his name in-game when released in 2003.
He currently holds just over 3 billion total experience with a max total level of 2898 (virtual total level 3334) as of November 4th 2021.
Thehate was rank 12 in June 2002.[1]
It's rumored he lives within the United-States, often times being called just "Dennis" Thehate currently resides in Finland. He currently resides in the 3bo clan, and is a frequent guest in Zezima Clan.
References