Trinky

Total level
2715
Combat level
138
Started playing
2013
Ended playing
N/A
Influences
Avatar
Achievements
Completionist Cape
Known for
Comic Series
Clan
Gainztrain
[view] • [talk]
Trinky is a Welsh Runescape player and community artist, best known for drawing comics. While her first comic was very controversial and heavily criticized, subsequent comics were very well received.
In-Game Achievements
As of October 2016, Trinky is a completionist cape holder with a total level of 2715, and 1.21 billion total experience. Trinky has mentioned slowly pursuing the trimmed completionist cape, and also her goal to max her hardcore ironwoman, Trinks.
A passive goal of hers is achieving all 120 capes; she currently holds level 120 in Dungeoneering, Invention, Prayer, and Thieving.
The Character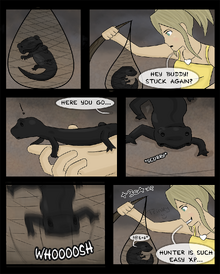 Trinky has stated that Avatar: The Legend of Korra is the inspiration behind the character design used in the comics. This character is usually placed into humorous situations that she got herself into. Occasionally other characters will be added to the comics, with the most frequent being known only as "Bruno".
Personal Life
Trinky has been dating Dreyri, the former rank 1 hardcore ironman. [1] While Dreyri no longer plays, Trinky still plays casually, although not as much any more. She plays on her ironwoman more than her main currently.
In the past, Trinky has expressed her hopes to work for Jagex someday. She is currently a computer science student, and digital artist.
While soft spoken and friendly, Trinky is known for her outbursts of rage when it comes to Guthixian Caches and Sinkholes.
External Links
Trinky on the Runescape Adventurer's Log
Trinky on the Runescape Hiscores
Community content is available under
CC-BY-SA
unless otherwise noted.