http://i627.photobucket.com/albums/tt355/Liamreffell4/announce_read.gif
http://i627.photobucket.com/albums/tt355/Liamreffell4/sticky_read.gif
http://i627.photobucket.com/albums/tt355/Liamreffell4/topic_read_locked.gif
Hey, I noticed that you edited the Sitenotice. But, you misspelled discussion as disscussion. Just wanted to point that out. Muzzy34 01:57, 3 May 2009 (UTC)
Thanks for the heads up, I promise to use my powers responsibly (I will read over the admin guidlines again too.) Thanks again, Caesermenace 02:02, 6 May 2009 (UTC)
please call me joe :).--2+2=4. Probably 06:25, 6 May 2009 (UTC)
Main page
Can you please tell me how you are going to redo the main page? Because Help:Main page states that you shouldn't fully protect the main page unless vandalism has been going on there. Thanks. Muzzy34 Chat 21:44, 2 June 2009 (UTC)
Well..
I didn't know I was so helpful! I just found it on his YouTube profile..
Recent Edit
Corrections made to the Abyssal Whip page: Rune defender now directs to the "defender" page rather than the "Dragon scimitar" page Dragon scimitar now directs to the "dragon scimitar" page rather than the "slash" page
RuneScape Members
Hello there, i am officially a RuneScape member as of October 4 2009. This is a yearly Subscription. Wish me luck in RuneScape Members;)
My account in the Wiki
Hello, I have a big runescape history and I want to create a new article to my account. But I don't know exactly how to do that. My runescape username is Yogodads. Thanks!
Skyshyguy
Can you please remove the article "Skyshyguy" created by Flurries. This is an very incorrect article, and this has false facts about my character now "DJ Skyguy" Also, I ask that the photos of me that was uploaded of me in the Port Sarim Jail to be removed, as He added that I was put in Port Sarim Jail on the game for a crime, those photos were somehow taken from one of my unpublished RSMV I was making, and I request that these be removed as Protection of my character. Please remove any images that He has uploaded of my character as this takes away my in-game privacy, as some of those photos were private and I did not give permission to have these photos uploaded. I ask that this article be removed. Any true facts or information about my character will be posted by me on my personal article. Thank you.

DJ Skyguy 01:30, January 19, 2011 (UTC)DJ Skyguy
Locking Thread
Hello again, RS.
Thank you for the removal of the article, yet may I ask If you could please lock my personal page. I feel that Flurries will create another account and attempt to report falsely about me, I do not wan't this to happen. So, I ask you can If you can please lock my article about myself (DJ Skyguy) from editing except by myself. I ask this as an act of my character's protection against false leads.
Sincerely, Runescape Players Wikia contributor.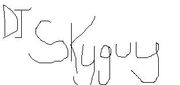 DJ Skyguy 22:55, January 24, 2011 (UTC))
RS, your an admin and I'm pised off right now about my article so maybe you need to see over my talk page about my complant message because I'm considering on quitting this thing.
Locking question
Hi, I haven't made any articles yet, but I was wondering if you could lock the article I make for my Runescape account (Travis D) after I'm done. I know a lot of people in Afrobros clan, and they like to spam/troll people and places like this (http://rsplayers.wikia.com/wiki/Sorbosander is one example, he's in the clan, as well as the Afrobros clan wikia) - They've already said they would mess with it, so I would like to know if you could lock it when it's done :)
— Travis D (talk) 17:44, February 11, 2013 (UTC)
notified about notability concerns for article

 Hello. One of the articles you created or significantly contributed to, LiamWC72, has been proposed for deletion. The proposed reason for the deletion is: No indication article meets notability criteria.
If you disagree with the deletion, you can remove the notice from the article, but please include an edit summary explaining why. HighLevelHistorian (talk) 05:14, January 26, 2018 (UTC)
Community content is available under
CC-BY-SA
unless otherwise noted.