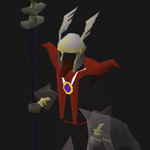 Vio (in-game Vio RS) is an Old-School RuneScape PKer and videomaker, most notably known for his documentaries The Wilderness - An Unauthorised Biography (2012), Reign of Terror (2017), and various other RuneScape videos. He is a member of the multi PvP clan Deathrow, and has previously served as Warlord and Second-in-Command of the Wilderness Guardians. He has over 4,500 subscribers on his YouTube channel.
RuneScape and Clan History
Vio started playing RuneScape at the age of 10 in the summer of 2003, his first RSN being Kecooler. In 2006 he got involved with the multi-PvP clan world, befriending the Abyssal Guardians and later joining the Red Blade Hunters. He started a YouTube channel called Pifflemaster and produced mainly videos of clan events, recording with Hypercam 2 and editing with Windows Movie Maker. In 2007, he created a second channel Kecooler to match his RSN.
In 2009, Vio joined the well-known P2P multi clan Wilderness Guardians. He also made a new RuneScape account known as WG Keanu, and a new YouTube channel of the same name, which is now VioRS.
Despite a few brief leavings, Vio has remained with WG for the majority of his RuneScape career. He reached the highest-tier member rank of Elite Guardian before being given the generic rank of Historian for various work done to showcase the clan's legacy. In June 2011, Vio was given leadership of WG's junior clan Descendant Guardians. During the switch to Old-School RuneScape in 2013, he was promoted to Warlord and Second-in-Command - a position he held for the majority of the year. After a few periods of inactivity over the following years, he returned in 2015 and remained an active member for a further 4 years, once again reaching the rank of Elite Guardian.
In early 2019, Vio left WG and joined the upper-tier clan Cutthroat in an attempt to further utilise and develop his PvP skillset. He returned to WG in mid 2019, and became de-facto leader of the clan's elite PvP unit Master Guardians from August 2019. In May 2020 he joined Deathrow, a recently-formed mid-tier clan comprising of many ex-CT and some former WG members.
Videomaking Career
Vio's early productions were mainly PKing trip and war videos for his associated clans. In 2006 he recorded a portion of a fight between Damage Incorporated and Dark Slayers (the top two F2P clans at the time), and the video gained over 20,000 views.
On his current channel, his first notable work was the 2011 Machinima Can I have 10k? - a beat-poem critical of the game community's attitude towards wealth and the prevalent issue of begging. The video has received over 300,000 views and 6,000 likes, and is Vio's most popular production to date.
In 2012, Vio and WG leader His Lordship collaborated to make The Wilderness - An Unauthorised Biography - a documentary on the rise and fall of RuneScape's PvP clans. The video achieved instant recognition with over 145,000 views and 11,000 likes - Vio's most liked video. An epilogue was released later in the year, followed by a petition and a community-made appendix which was delivered to Jagex at RuneFest 2011. The collection of media has been cited as being influential in both the Evolution of Combat and Old-School RuneScape.
Vio mostly continued making smaller vlogs and guides, including a F2P Looting Guide for Aribiterspar's 2011 End of Summer Guide Competition, which gained over 170,000 views. He has also made video intros for several fellow videomakers including His Lordship and Stokenut.
In 2017, Vio returned to large-scale productions with a documentary on the infamous #1 PvP clan Reign of Terror. The video was met with criticism due to RoT's controversial nature, but still achieved over 50,000 views.
In 2018, Vio started The Wilderness Guardians YouTube channel, which showcases all of WG's videos dating back to 2004, as well as Vio's own recent clan productions.
Vio records with OBS Studio and edits with Sony Vegas Pro. He has also hosted occasional livestreams on Twitch.
Real Life
In real life, Vio is known as Keanu, age 26. He is a British national, born in the Caribbean and raised in the USA before moving to England in 2004. He is a founding partner of a catering service for the Royal Air Force in England and United States Air Force in Germany, and works part-time as a driver.
Vio has attended RuneFests 2010, 2011 and 2013, as well as several of WG's own real life meetings.
Select Filmography
External links
Wilderness Guardians clan members

Founder
Leaders
Emeriti
Ex-Members

Vio
Community content is available under
CC-BY-SA
unless otherwise noted.