Zezima

Total level
2898
Combat level
138
Nationality
American
Started playing
July 2001
Achievements
• Completionist cape
• Rank 1 overall (2004-2007)

• Max total level (2898) in March 2021

Known for
First to level 99 all skills in July 2005 after Slayer's release
Clan
Zezima
[view] • [talk]
Zezima, known outside RuneScape as Peter Zezima,[1] is a cyberworld celebrity who was the highest ranked person in RuneScape overall for large portions of 2004-2007.[2] He started playing in 2001, after a friend showed him the game, and has been playing since. He was the first player to achieve level 99 in Slayer, a total level of 1980 and 2079, and one billion experience overall. A Jagex Moderator in 2008 cited him as "arguably the most famous player of the game" and Zezima was quoted in the back of the book Betrayal at Falador.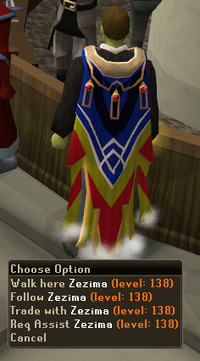 Gaming career
Zezima started playing RuneScape in late June/early July of 2001, after one of his friends from the game Triple Triad X messaged him that he knew of a game that he felt Zezima would never be any good at, RuneScape. His first 99 skill was Smithing, which he achieved in July 2002, followed by 99 Cooking on 10 November 2002 and 99 Fishing on 30 November 2003. He first achieved the top rank in the hiscores in October 2003, but temporarily lost it when RuneScape 2 was released as he didn't train Runecrafting until Choppermad (who was ranked second at the time) reached level 73 in the skill. He achieved his 20th level 99 in Slayer on 9 July 2005, becoming the first player to attain level 99 in the skill. He obtained level 1980 total on 9 July 2005, and level 2079 total on 4 October 2005, becoming the first player to achieve those milestones as well. At the time of the achievements, these were the highest overall levels a player could obtain. He became ranked top 100 in all skills on 19 March 2006, but has since lost that position.[3]
On 14 June 2007, Zezima became the first person to attain one billion experience overall.[4] After the release of Summoning in January 2008, he lagged behind other players in the hiscores. On his YouTube channel Zezima0213, he stated that he quit playing competitively as the game is "getting progressively easier over time", and that he lost a sense of accomplishment in what he worked hard to achieve.[5]
On 31 August 2013, Zezima attained level 99 Divination, becoming the 18th player to do so. As of 27 January 2016, he has won 12 Seasonal HiScores competitions. He won his first competition, Red Imp Kills, on 6 October 2013.[6] On 21 July 2016, Zezima achieved 200 million experience in all 27 skills, and 5.4 billion experience overall.[7]
In the now dead FunOrb, a multiple small games website created by Jagex, Zezima was Rank 1 in Orb Points (an overall scoring system on the site).
Betrayal at Falador novel
Mod Mark, a Jagex Moderator, asked Zezima if he would like to be quoted in the RuneScape novel Betrayal at Falador, and he accepted.[8] The quote, "The best thing ever (that doesn't give xp)" had been featured in the back of the book and originally appeared on the product page of the Jagex Store, but has since been removed from the page.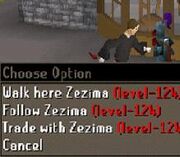 Recognition
According to Mod Mark in 2008, Zezima was arguably the most famous player of the game.[8] In 2007, he made it onto the list of biggest role models in a study done by Cartoon Network's New Generations.[2] Also, on 8 April 2009, Zezima was given Player Moderator status.[9] During RuneFest 2013, Jagex awarded him the Golden Gnome for "Lifetime Achievement".[10] The Golden Gnome Awards is an annual competition that recognizes members of the RuneScape community.[11] Zezima also appeared for a short interview in the RuneScape documentary released in 2017.[12]
Trivia
Zezima has a medium-long hair tabby cat named Alex.
References
External links