Zig Frid

Zig Frid in real life
Combat level
138
Started playing
Unknown
Ended playing
2011
[view] • [talk]
Zig Frid is a RuneScape player with combat level of 200. He was one of the founders of the clan Legends Of Glory, and also leader for most of the time. He quit playing RuneScape so the LG closed.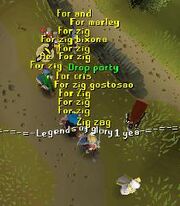 External Links
This article is a stub. You can help the RuneScape Players Wiki by expanding it.
Community content is available under
CC-BY-SA
unless otherwise noted.