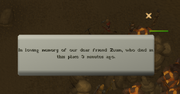 Zuum was a Lieutenant in the "Lol clan" for over 2 months before it disbanded. Following the Clan Support update in April 2011, He was promoted to Captain until the clan split and eventually died. Zuum was one of the last two players to be ranked in the Lol clan before the clan disbanded due to owner-ban. The other was Mage Lord. Despite the turmoil experienced by two factions of the clan, Zuum kept on good terms with most clanmates.
He has continued to roam around, frequenting Mod Mark's friend's chat and skilling on World 99. He has a quirky personality, a friendly attitude, and will usually strike up a conversation with those around him. 
Achievements
Zuum is primarily a DIY player - one who rarely uses the Grand Exchange. As of August 2013, he has seven level 99 skills, and is slowly working towards a max cape. 
He has also expressed interest in one day getting 200m experience in Firemaking.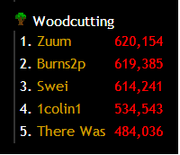 External Links
Community content is available under
CC-BY-SA
unless otherwise noted.